PunchOut is a type of electronic catalogue that plays an important part in e-procurement solutions. It allows companies to gain direct access to the offer that they negotiated with their suppliers.
In this file, you will find the answers to all of your PunchOut questions:
The term "PunchOut" was originally created by Ariba, an American procurement solutions platform. Widely popularised and standardised, this terminology has now been adopted by most other global players (Coupa, Ivalua, Determine etc.).
PunchOut refers to the connection between the corporate purchasing environment and the web solution of their suppliers. This allows companies to directly access their suppliers' sites, where the contractual terms and conditions they negotiated are applied (price, shipping costs etc.), and to transfer purchase orders to their own purchasing system.
As an electronic catalogue belonging to the vast range of e-procurement solutions, Punch-Out is, by definition, part of a process that digitalises commercial transactions between companies and their suppliers, and more specifically the first phase of the Procure to Pay (P2P) process: product selection.
Procurement lifecycle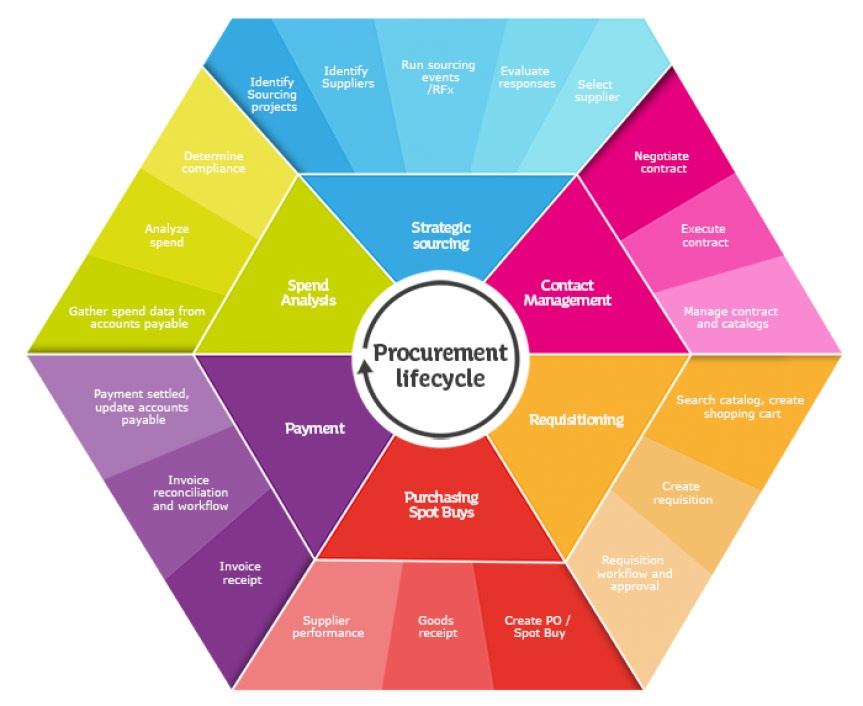 Ariba also provides a complete definition of PunchOut: "[It is] an electronic catalogue on a remote website that is accessible from a procurement system. [It is] an easy, low-cost way to provide [] buyers with customized content, personalized shopping experiences, and timely content updates. It is especially helpful when:
Your catalog content changes frequently
You offer highly configurable items that require complex ordering or customization
Your catalog is large, with over a thousand items"
PunchOut is suitable for managing non-strategic purchases as this procurement category includes a vast range of products (several tens of thousands of products) with low repeat purchases. This dynamic catalogue system, updated in real time, allows procurement departments to improve efficiency and save valuable time.
PunchOut covers two aspects in its operation:
The electronic catalogue known as "PunchOut" is accessible via an interface between the procurement solution of companies and the website of suppliers.
From this user-friendly and personalised interface, companies access the offer that has been negotiated with their suppliers. They choose their products and save them in a "basket", which is automatically transferred to their e-procurement solution as a "purchase order".
This "purchase order" follows the predefined workflow and then becomes an order, which is automatically sent to suppliers.
As the catalogue is connected to the supplier information system, suppliers are responsible for creating the catalogue, publishing it in accordance with the classification standards (e.g. UNSPSC[1], eCl@ss[2] etc.) and specific company details, updating the information, reporting on consumption and price changes etc.
As with e-procurement, PunchOut centralises and automates interactions between users, procurement departments and suppliers, and more broadly, optimises the process of searching for products.
There are six main advantages, explained below in detail, to bear in mind:
1. Financial savings
The cost of a standard transaction is estimated to be £82 on average, and that of a transaction carried out through an electronic catalogue, such as a PunchOut, is around £56[3]. This saving of £26 is explained thanks to the automated process and reduced labour costs. If this saving is applied to each order placed, the potential financial gain for companies prove to be substantial.
But that's not all: by further digitalising transactions (when placing the order and invoicing), a saving of £60 or more per transaction can be made.
2. Delegation of maintenance and reporting
With PunchOut, suppliers are responsible for publishing and updating the information contained in the catalogue, in accordance with the contractual terms and conditions. This allows procurement teams to save considerable time by delegating these time-consuming tasks.
Suppliers can also implement accurate reporting, which allows companies to better control their purchases, as is notably the case with the Savin'side® method.
3. Access to accurate information
As it is connected to the supplier information system, PunchOut provides a very large amount of detailed information (availability, discounts, shipping costs etc.). The risk of error is reduced because the updating process no longer requires human intervention.
4. Better management of expenditure
Thanks to PunchOut, companies systematically benefit from preferential prices on negotiated products. Purchases are simplified and centralised through a single solution, enabling companies to better manage their expenditure.
5. Optimised user experience
PunchOut offers an excellent user experience because the interfaces are based on e-commerce sites: automatic login, optimised search engine, dynamic product suggestion, lists of favourites, record of previous orders etc. Navigation is smooth and intuitive, just like your favourite B2C sites.
6. Improved productivity
Since a large majority of tasks are either automated or performed by suppliers, procurement teams witness improved productivity and can focus on tasks with greater added value.
It should be pointed out that there are several kinds of electronic catalogues. Two models dominate in the world of e-procurement, and both have well-defined characteristics:
PunchOut, known as "dynamic"
As explained earlier, this is an interface between the company's procurement solution and the supplier's retail site. Because it is a dynamic catalogue, the information is updated in real time (stock quantities, delivery times, technical and transactional documents, new products, product range expansions, replacement products etc.). The supplier is responsible for any solution-related aspects (publication, updates, reporting etc.)

The hosted catalogue, known as "static"
This is a CSV document[4] (or equivalent) sent by the supplier and archived in the procurement system of the company or its service provider (marketplaces). Because it is a static catalogue, the company is responsible for monitoring and updating data, reporting etc.
While Punch-Out is adapted to the management of non-strategic purchases, the hosted catalogue is more suitable for strategic purchases, which are characterised by a smaller but more regular offer and require some stability with regard to products and their prices.
---