The Hackett Group has conducted a survey on the performance of world-class procurement organisations in comparison with other companies such as MSBs (mid-sized businesses) and SMEs (small and medium-sized enterprises). Based on the results, the former are unsurprisingly more efficient than the latter. However, it appears that the digital transformation of companies can make a big difference and reduce existing disparities.
Successful international companies
World-class procurement organisations are significantly optimising their productivity by standardising and automating daily tasks carried out by their teams wherever possible.
This can be demonstrated by a few figures comparing their performance to that of their peers:
The labour costs for world-class procurement organisations are up to 21% lower
They have 29% fewer staff
Their ROI (return on investment) is twice as high
They have two to three times fewer transaction discrepancies
They have a third lower staff turnover
The digital shift: Benefits for everyone
The Hackett Group has listed several levers to accelerate the digitalisation of companies of all sizes, including robotic process automation, the modernisation of digital architecture and an approach that is more firmly based on data analysis.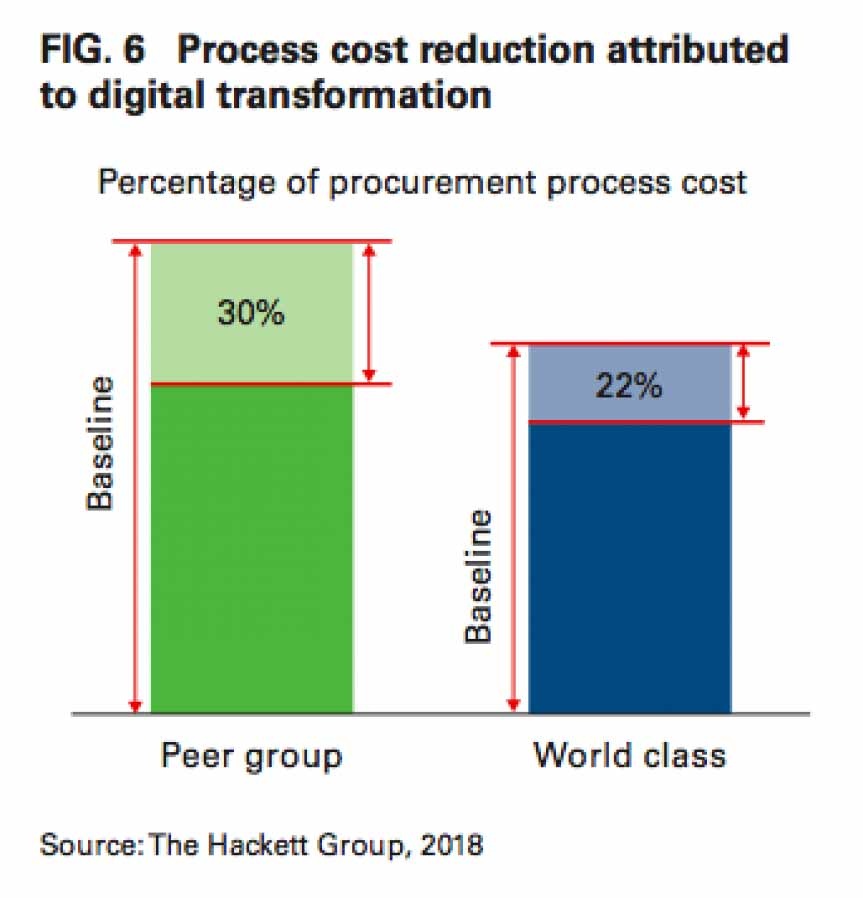 In this respect, the survey highlights some interesting figures: World-class procurement organisations can reduce their costs by up to 22% as a result of digital transformation, as opposed to 30% for other companies. Although reaching the ideal level of performance can take up to five years or more, procurement departments in other companies will see the initial benefits of digitalisation after just two years.
This not only emphasises that the gap that has so far separated the two groups could be bridged, but also that all organisations still show significant potential for improvement in terms of performance.
The final words go to Christopher S. Sawchuk, Principal and Global Procurement Advisory Practice leader of The Hackett Group, who is enthusiastic about the digital transformation of companies and said: "There's a tremendous opportunity for procurement organisations to apply digital technologies to transform their service delivery model. It can make them faster, cheaper, smarter, much more responsive to their customers and quite simply a more valuable partner to the business".