First there was mechanisation, then electrification and then computerisation, but now, the Fourth Industrial Revolution is under way. New technologies and cyber-systems, such as Big Data, Artificial Intelligence, Blockchain and the Internet of Things, are at the very core of this inescapable transformation and are extending to every profession—including procurement.
Already emerging is a future in which new technologies take on certain low value-added tasks within the profession, which up to now has been delegated to humans. Procurement departments will therefore be able to free up valuable time in order to focus on a key part of their role — human relations.
This post, divided into two parts, aims to analyse the impact of digital transformation on procurement and to identify key areas in which the profession can reinvent itself.
This first part is organised into four sections:
At present, procurement teams are still performing low value-added tasks, with 49% of their workload consisting of operational tasks, while the remaining 51% of their time is spent on the strategic aspect of their role[1]. However, some of these duties could be transferred to new technologies, in turn making tasks more cost-effective.
Mapping the entire procurement cycle from the development of the purchasing strategy through to the payment stage shows that almost 70% of tasks can be automated[2]. This potential for automation is all the more apparent for the Procure to Pay (P2P) process, where more than 80% of tasks can be automated. Order and invoice reconciliation features at the top of the list, along with monitoring and reporting[1].
The potential for process automation [1]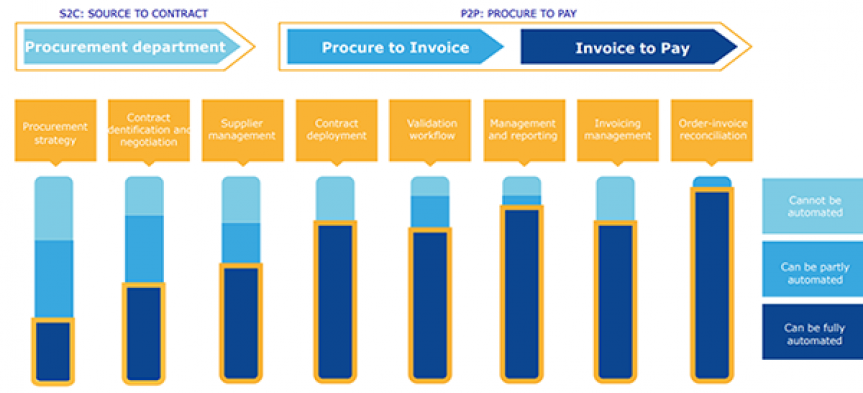 While operational tasks are time-consuming and create little value for procurement teams, automation offers massive efficiency benefits.
However, for most companies, there is room for improvement. To date, only 5% of procurement departments use highly automated systems or processes. However, 63% consider automation to be a top priority and have already added it to their road map[3].
Procurement departments are aware of the potential offered by new technologies and would like to move in this direction. However, they face three major obstacles when it comes to implementing them:
1. Data in vast quantities that is not always reliable and requires knowledge in order to process it.
The volume of data created around the world is expected to increase from 33 zettabytes in 2018 to 175 zettabytes by 2025[4]. This explosion in data and how to process it represents the main challenge faced by procurement departments, whether in terms of:
Availability: Procurement departments do not always possess the necessary data, whether internal or external, and do not know how to collect it.
Quality: Once the data has been collected, it may contain errors, be incomplete or non-standard. However, the use of technologies is only appropriate if the relevant data is available.
Integration: The data integration process may be hindered by inadequate computer tools.
Knowledge: Optimal data management requires understanding, processing skills and appropriate technologies in order to effectively process the data.
2. Unmotivated human resources who need to develop their skills
The adoption of new technologies also relies on two major human factors:
Backing and support from management, who must convey digital transformation as being a priority within the company.
The analytical skills available, including a lack of resources and knowledge within the company, pose a long-term problem. At present, almost 75% of procurement decision makers feel that their teams have little knowledge of the skills required to optimise the use of current and future technologies5. This means that they are looking to recruit individuals with unusual and highly sought-after profiles.
3. Emerging technologies
Current IT tools limit the introduction of new technologies, firstly in terms of integration, then in terms of adoption by internal customers.
New technologies are constantly being developed and their scope is also expanding. In procurement, four main solutions are required to play a major role in digital transformation.
By analysing a quantity of data, whether structured or unstructured, Artificial Intelligence facilitates and even stimulates the decision-making process. Decision makers are demonstrating an increasing interest in this technology. At present, AI is widely used by 13% of decision makers as part of their procurement or logistical processes. More importantly, 55% of company directors said that they will continue to invest in this area over the next two years[5]. Among the Artificial Intelligence solutions available, procurement departments are eagerly awaiting three technologies in particular:
- Predictive analytics can identify models and make predictions based on a large number of factors. These tools could help procurement departments to anticipate risks and opportunities, especially in terms of fluctuations in prices and changes in supply, consumption and expenditure etc.
- Robotic process automation allows a series of pre-programmed actions to be executed automatically, in accordance with a set of defined rules. This solution could automate repetitive and low value-added tasks, which until now have been completed by procurement teams. In this regard, the first processes to be automated is the processing of invoices (51%) and the approval of purchase requests (35%)7.
- Natural language processing makes communication between computers and human languages possible, either through text or voice recognition. This solution may take the form of virtual agents (chatbots) that process supplier requests and offer first-line support to internal customers.
The first solutions to digitalise Source to Contract and Procure to Pay processes emerged between 2000 and 2010, with e-catalogues and e-procurement, for example.
Companies are now familiar with these tools and are relatively advanced in this area. For example, almost a quarter of procurement departments have fully digitalised their low value-added processes, such as payments (23%), purchase requests and orders (22%), or even sourcing (11%)[6]. The challenge now facing companies is to continue digitalising processes in order to dematerialise every transactional and logistical process.
Blockchain stores information securely and transparently for all stakeholders, without the need for a central supervisory body.
Used by only 3% of procurement departments to date[7], Blockchain is still rarely seen in companies, even though an increasing number are demonstrating an interest in it. Often compared to a large, virtual account book, Blockchain may be able to assist with authenticating contracts, securing supplies or even ensuring that any calls for tender are fully transparent.
The Internet of Things (IoT)
Connected objects (in addition to equipment or services) collect and send data about the device itself, the user or its environment. In particular, these solutions may be useful for stock management and monitoring supply, among other things.
Although the adoption of these solutions is gradual and depends on the needs of each individual company, each technology ultimately allows procurement processes to be automated. In addition, they improve operational efficiency and above all, allow teams to save a considerable amount of time.
No longer constrained by time-consuming tasks and with help from these new technologies, procurement departments will be able to spend more time on tasks with greater added value, while putting their skills to good use.
Two issues remain a priority: participating more actively in the company's strategy and creating an increased number of links with internal customers. Although the buying profession is aware of these problems, they have not yet been fully addressed due to a lack of time and resources.
At present, only 17% of companies believe that their procurement department is fully focused on the strategy[8]. Although procurement is mostly perceived as being functional and reactive, the profession is still struggling to position itself as a genuine business partner that adds value to the company.
In particular, this difference in perception (strategic vs operational) is due to a lack of collaboration and communication between procurement departments and other departments. The statistics speak for themselves: While 44% of purchasing teams believe that they work closely with other company departments, only 18% of these departments back this up[9]. This difference in perception demonstrates that there is much to do to help internal customers feel more supported and understand the benefits that the procurement department can offer.
The next priority for procurement departments must be to develop relationships with every stakeholder, both management and internal customers, in order to demonstrate their added value.
Digital transformation has the potential to really boost performance within procurement departments. The outlook is inspiring, offering tasks with greater added value in addition to a new strategic position. This will ultimately create additional value for stakeholders and in turn improve perceptions surrounding the procurement profession.
Available online soon: The second part of this post will focus on the revival of procurement.
---