This report, in three main parts, analyses the impact of digital transformation on the procurement profession and tries to identify the main ways in which the profession can reinvent itself. In the first part, we discuss the digitalisation of purchasing, followed by how purchasing departments will be able to free up precious time in order to refocus on a fundamental element of their profession: the satisfaction of their internal customers.
This second section on the transformation of the profession is divided into two parts:
Freed from time-consuming tasks and assisted by new technologies, buyers will be able to devote themselves to tasks that bring higher added value, while making the most of their skills. Two issues will then become priority: to participate more actively in the company's strategy and contribute more to the satisfaction of stakeholders. These issues, which are at the core of the buyer's job, are rarely addressed today due to a lack of time and resources. Perceived mainly as an operational and responsive role, purchasing is still struggling to position itself as a genuine partner in the business, a creator of value for the company.
This perception has come about mainly due to a lack of collaboration and communication between purchasing departments and other departments. As evidence of this, and as the report entitled "Deloitte 2021 Chief Procurement Officer Survey" reminds us, more than a third of purchasing departments do not meet their objectives in terms of internal customer satisfaction or simply do not monitor any key performance indicators on the subject. This highlights the fact that much remains to be done in order that internal customers receive better support from their counterparts in purchasing and that they are made aware of the benefits that this can bring.
In this scenario, we must not overlook the partners who play a leading role in the performance of the purchasing department. This is why buyers must strengthen their relationship with their suppliers to learn how to work together more effectively, stimulate innovation, and collaborate on creating solutions. As can be seen, developing relationships with all stakeholders must be the next priority for purchasing departments wishing to demonstrate their added value.
We should ask ourselves: what will the job of a buyer really be like in the long term, when purchasing departments have completed their digital transformation? It is certain that purchasing will be reorganised to satisfy internal customers. This phenomenon will be reflected in five major stages, focussing on relationships more than ever before.
Procurement in five stages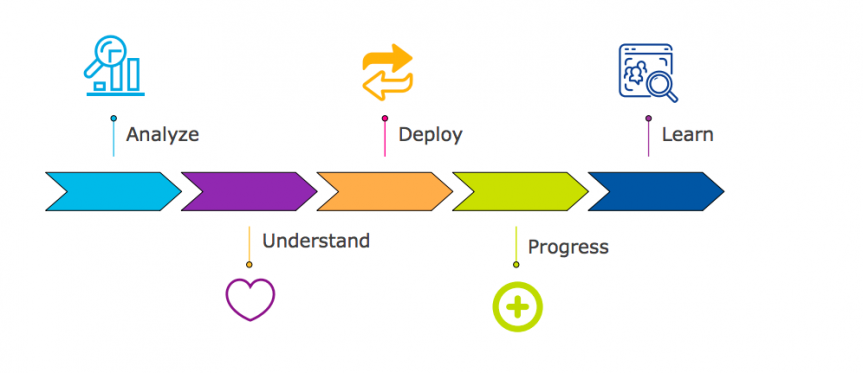 Analyse
New technologies (Big Data, Artificial Intelligence, the Internet of Things, etc.) will make it possible to integrate and analyse a massive, ever-growing amount of data, both internal and external. The results obtained, increasingly more precise and relevant, will allow the purchasing teams to improve the quality of their responses and to optimise their strategy based on tangible information.
Understand
Buyers will be able to and will have to spend more time on their internal customers to better understand their requirements and the issues they face upstream: how do they search for products, what are their purchasing criteria, what channels do they use to order… ?
After their purchasing cycle has been defined, a permanent consultation and reporting process will need to be put in place. Regular field visits and buyer feedback will make it possible to validate or rework the assumptions previously made by the technologies. By including internal customers upstream in their decisions, purchasing departments will be able to enhance their value and gradually build up a relationship of trust.
Deploy
According to McKinsey & Company, 70% of change programmes fail to meet their goals, largely because of employee resistance and lack of support from management. Therefore, it would appear to be essential for purchasing departments to focus on communication in the context of deployments. It is, above all, necessary to support internal customers, to make the business activities undertaken meaningful, and to monitor the deployment carefully. This approach not only helps build support for the change from the parties involved, but also makes it possible to quickly identify any corrective actions that may be necessary.
Progress
Once the deployment has been completed, it is imperative to initiate a continuous improvement procedure, to make sure the new process operates smoothly over the long-term. This will require the development of a culture of feedback between purchasing departments and the other parties involved. The clients' opinions, whether positive or negative, will have to be taken into account in order to improve the processes and tools that have been put in place. The objective is twofold: to optimise performance and, above all, to engage stakeholders.
Learn
Because the world is changing at a lightning speed, cultivating your curiosity, maintaining your skill-set, and remaining sensitive to your working environment will be essential to continue to advance in your profession. In particular, you will need to stay abreast of technological advances and their applications and, through competitive intelligence, any environmental and regulatory changes. To achieve this end, every buyer will have their own methods: reading, conferences, e-learning, social networks, consulting, etc.
In addition to enriching their professional and personal experience, this will allow them to position themselves as experts and bring real added value initially to the company by integrating this knowledge into company strategies, but also to their internal customers, by proactively informing them of any changes that will have an impact on them.
Powered by digital transformation, purchasing departments will be able to put relationships back at the centre of the purchasing process, contributing to the company's strategy and increasing the satisfaction of all their stakeholders, most importantly their internal customers. To achieve this, certain key skills and know-how, as well as interpersonal skills, will be essential.
To find out how to integrate CSR into the heart of your company's purchasing policy, download our white paper.