First there was mechanisation, followed by electrification and then computerisation, but it is the Fourth Industrial Revolution that is now under way. New technologies and cyber-systems, such as Big Data, Artificial Intelligence, Blockchain and the Internet of Things, are at the very core of this inescapable transformation and are extending to every profession—including procurement.
What is already emerging is a future in which new technologies take on certain low value-added tasks within the profession, which up to now had been delegated to humans. For this to happen, humans will need to learn to work with machines, review their business practices and acquire new skills. We can also throw more strategic positioning, higher value-added tasks and the creation of more value for stakeholders into the mix.
This post, divided into two parts (read the part 1 here), aims to analyse the impact of digital transformation on procurement and to identify key areas in which the profession can reinvent itself.
This second part is organised into two sections:
We might ask ourselves what the procurement profession will look like once procurement departments have undergone their digital transformation. The buying experience will almost certainly revolve around internal customer satisfaction. This will be reflected in five major steps that focus more than ever on relationships.
The five-step buying experience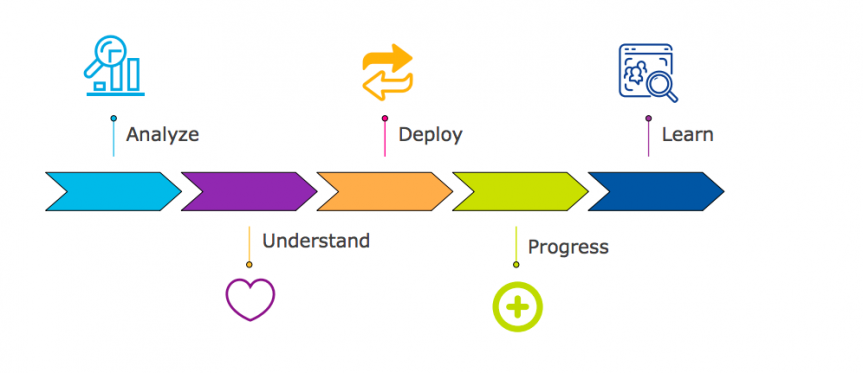 New technologies (Artificial Intelligence, the Internet of Things etc.) will allow for the integration and analysis of an increasing amount of data, both internal and external. The results obtained, which will become increasingly accurate and relevant, will enable procurement teams to improve the quality of their solutions and optimise their strategy based on substantial information. 67% of procurement decision makers agree that one of their main priorities is to improve the strategic vision of procurement through reporting and analytics[1].
Gain a deeper understanding
Buyers will need to spend more time with internal customers in order to better understand their needs and issues at an earlier stage, such as how they search for their products, their purchase criteria and the procedures they use to place orders. After establishing the customer's buying cycle, they will need to implement a regular consultation and reporting process. Going out into the field and collecting feedback on a regular basis is particularly important for confirming or reworking the assumptions made previously by the technology.
By including internal customers at an earlier stage in the decision-making process, procurement departments will be able to add value, create a relationship of trust and increase customer satisfaction. This idea is key when we know that improving the employee experience is a priority for 63% of procurement decision makers[1].
With 70% of change programmes failing to achieve their goals largely due to employee resistance and a lack of managerial support[2], being able to rely on communication is clearly vital for procurement departments when it comes to deployment. This means:
- Training and supporting internal customers
- Giving meaning to actions and projects undertaken
- Monitoring deployment
This approach will not only help stakeholders (internal customers including managers) feel more involved with the changes, but will also help quickly identify any actions that need to be taken.
Once deployment is complete, a continuous improvement process must be implemented to ensure ongoing development and smooth operation in the long-term. This will include the development of a feedback culture between stakeholders and procurement departments. Their opinions, whether positive comments or constructive criticism, are important to help constantly improve the processes, tools, solutions etc. put in place. The aim is to optimise performance, but more importantly to engage stakeholders.
Cultivating curiosity, maintaining knowledge and being attentive to the surrounding environment will be crucial for continuous improvement. This will include understanding technological advances and their applications, competitive, environmental and regulatory intelligence (the French Sapin II Law, GDPR[3] etc.) and more.
Buyers will all have their own way of doing this: reading, meetings, e-learning, social networks, consultation etc. In addition to enriching themselves personally and professionally, this will allow them to position themselves as experts and bring real added value:
- To the company: by integrating this knowledge into strategies.
- To internal customers: by pro-actively informing them of these developments.
Putting people back at the centre of the buying experience will enable procurement departments to create more value for stakeholders. To achieve this, certain key skills—core skills and soft skills—will be essential.
As with low value-added tasks, technology will eventually replace buyers in certain areas such as data analysis, market research, negotiation and communications, which are all strong candidates for automation.
This means buyers of the future will be able to focus on their skills. Although technical skills remain the investment priority for 41% of procurement decision makers[4], the importance of interpersonal skills will become increasingly vital within the profession. In a constantly changing environment, know-how may actually become obsolete, unlike personal and behavioural skills.
Between core skills and soft skills, eight skills will prove indispensable for the buyers of the future.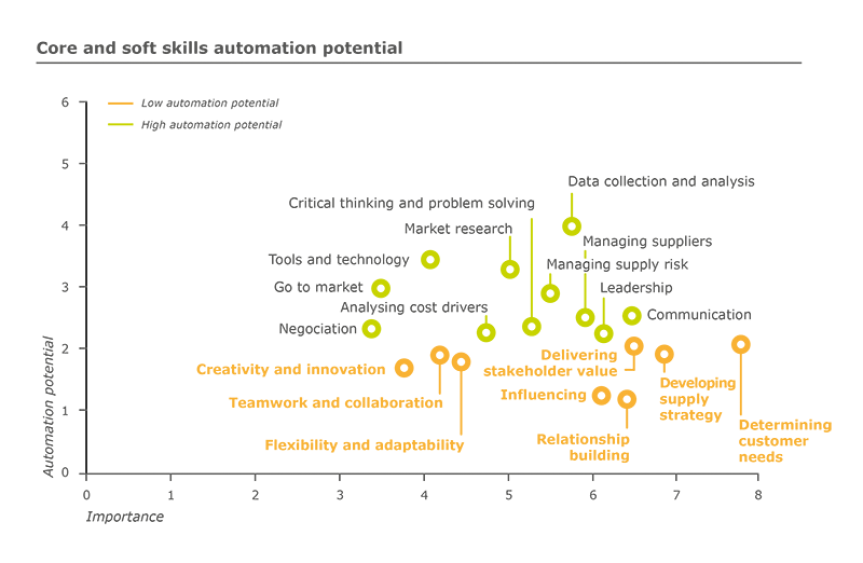 Skills mapping by importance and potential for automation[5]
- Relationship building
Building trust with stakeholders is a purely human skill and is the least likely to be automated. Human relationships will form the backdrop to the procurement profession, this helping develop other key skills. More than 42% of procurement decision makers think relationship building is one of the three essential skills for the buyer of the future[6].
- Teamwork and collaboration
This skill is essential because procurement departments work in a way that combines all of a company's departments and multiple suppliers. To collaborate effectively, the buyer of the future will need a combination of traits such as communication, listening and adaptability skills to name but a few. If internal customer satisfaction is to become a genuine priority within procurement departments, this idea should become increasingly important.
- Influence
The ability to influence is crucial for buyers because they must convince stakeholders of the relevance of their strategies. This requires transparency, modesty and, above all, communication that is tailored to each individual. This notion is particularly critical: Not only do procurement decision makers believe that a lack of influence represents their second greatest weakness, over 40% of them also believe that influence is one of the three essential skills that the buyer of the future must possess[7].
- Creativity and innovation
The buyer of the future will take a fresh, curious and innovative approach to meeting the challenges that lie ahead, such as driving supplier innovation. Balancing rational and emotional intelligence, by developing creativity and imagination, is now essential.
- Flexibility and adaptability
In the era of the digital revolution, everything changes very quickly. Whether this relates to tools, business practices, requirements, regulations or something else, buyers of the future will not only have to adapt quickly (accept the change), but they will also have to embrace it. This means the buyer of the future will need to adopt an active (not passive) approach and become personally involved, demonstrating openness and curiosity.
The three essential core skills
- Determining customer needs
To understand the needs of internal customers, we need to know how to ask the right questions, analyse the answers, read between the lines and check the information on the ground. This requires both technical know-how (such as market knowledge and product expertise) and sensitivity (empathy, active listening, patience etc.).
- Delivering stakeholder value
Buyers rely on different strategies to create value. To date, the most popular are focused on cost reduction, through expense consolidation (37%), reducing the total cost of ownership (32%) and using competitive procedures (31%)7. Other strategies are not so widely used, but are gaining ground with the evolution of the procurement profession. Examples include improving product specifications and increasing collaboration with suppliers, which help establish the procurement department as a genuine business partner.
- Developing a supply strategy
In order to optimise business efficiency and better manage risks, buyers of the future will also have to contribute to the development of a procurement strategy. 64% of procurement decision makers will undertake specific actions to secure their supplies this year[8]. In particular, this priority will require strong collaboration between procurement and supply chain teams.
Whether we're talking about core skills or soft skills, both follow the same themes: relationship building, openness and strategy. Ultimately, these will be the cornerstones of the procurement profession.
Digital transformation has the potential to really boost performance within procurement departments. The outlook is inspiring, offering tasks with greater added value in addition to a new strategic position. This will ultimately create additional value for stakeholders and in turn improve perceptions surrounding the procurement profession.
Nonetheless, technology will both elevate and change the face of procurement. Skills based on emotional and relational intelligence, combined with some targeted technical and strategic skills, will increasingly become the very essence of the procurement profession.
The buyer of the future will not be a robot but a key player in company strategy, who will use new methods to support the company in its growth and transformation.
---