Procure-to-Pay refers to a company's procurement process, from requisitioning through to payment.
In this article, you will find all the answers to your questions about Procure-to-Pay:
The term Procure-to-Pay, also known as Purchase-to-Pay or P2P, covers three main processes in the procurement lifecycle: requisitioning, purchasing and payment.
Procurement lifecycle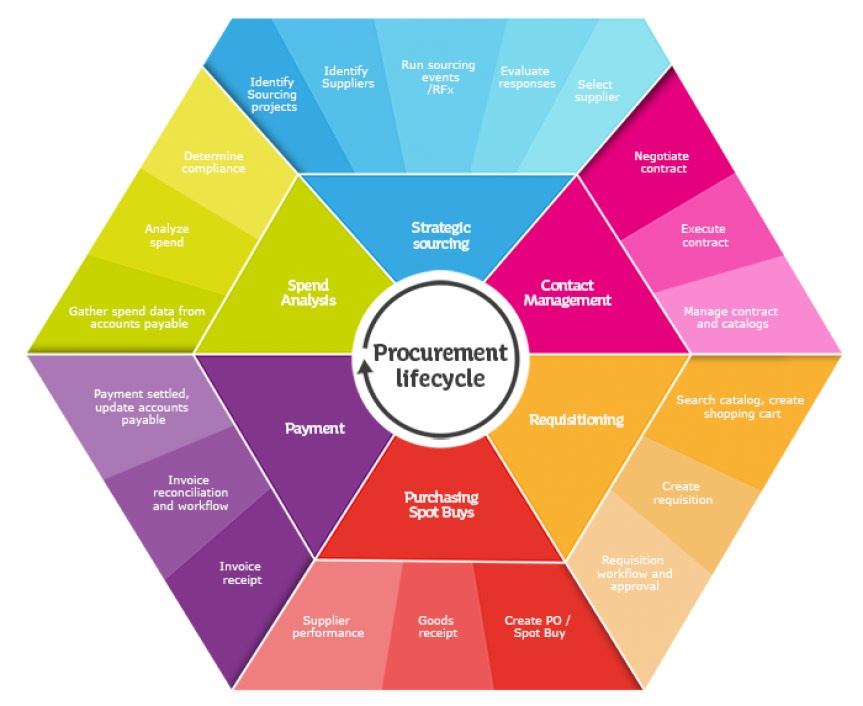 The Procure-to-Pay process generally ranges from looking up products through to updating the accounts payable. The following activities can be found between these two stages:
Look up products
Create a shopping cart
Create a purchase requisition
Process and authorise the purchase
Create the purchase order
Receive the goods
Check the order for conformity
Receive the invoice
Reconcile and process the invoice
Pay the invoice
Update the accounts payable
The Procure-to-Pay process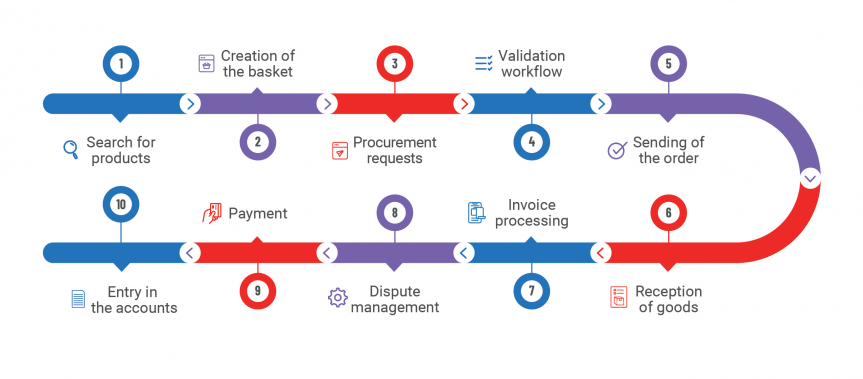 Each company obviously defines its own Procure-to-Pay process and may include additional stages.
Procure-to-Pay solutions involve presenting suppliers' products to users (by means of Punch-Out catalogues, e-catalogues and APIs) and then digitising, automating and enhancing the procurement and financial processes identified above. They incorporate control, verification, validation and document management activities, thereby allowing companies to exercise greater control over their purchases and improve their efficiency.
From a technological point of view, Gartner defines Procure-to-Pay as follows: "As its name implies, a Procure-to-Pay (or Purchase-to-Pay) system is a fully integrated solution designed to support an end-to-end process that begins with goods and services requisitioning and ends with ready-to-pay files for upload into an accounts payable system. Procure-to-Pay solutions use a scan-and-capture service, supplier portal and/or a multi-enterprise network to enable suppliers to submit invoices electronically. In addition to core e-procurement functionality (including e-requisitioning, approval workflow and e-catalog management), Procure-to-Pay solutions offer purchase-order-to-invoice matching and processing for invoices that don't match or when goods are returned."
Procure-to-Pay solutions are tremendously effective for raising the performance bar in procurement departments by:
Improving process effectiveness
Automating processes reduces manpower costs, processing times and risks.
Increasing visibility and control
Consolidating and aggregating data gives companies clearer insights and superior control over their spending.
Instead of spending time on manual and repetitive administrative tasks, procurement teams can focus on missions with greater strategic value for the company.
Since the Procure-to-Pay process is relatively easy to automate, procurement divisions can concentrate on such value-added tasks as sourcing, innovation, end-user intimacy and strategy.