An increasing number of companies are looking for a solution to significantly increase their turnover while maintaining the quality of the products or services offered. An efficient Procure-to-Pay system makes it possible to achieve the profitability targets set for the procurement sector. Procure-to-Pay refers to a company's procurement process, from requisition to payment. The implementation and analysis of the related solutions are potential performance levers for procurement departments. In this article, you'll find all the answers to your questions about Procure-to-Pay: the definition of the P2P process and an overview of the solutions and their benefits.
What processes does Procure-to-Pay encompass?
The term Procure-to-Pay, also known as Purchase-to-Pay or P2P, encompasses three main processes in the procurement lifecycle: requisitioning, purchasing and payment.
Procurement lifecycle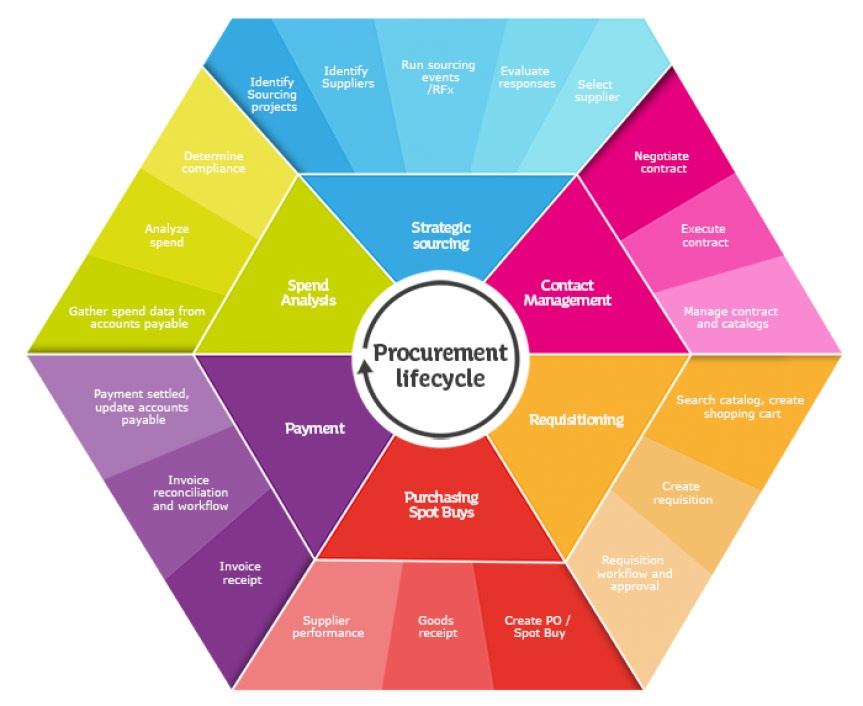 The P2P procurement typically ranges from product sourcing to supply chain to accounts payable maintenance. This covers in particular:
Product sourcing;
Shopping basket creation;
Purchase requisition;
Requisition processing and approval;
Purchase order preparation;
Receipt of goods;
Conformity assessment of the order;
Invoice receipt;
Invoice reconciliation and processing;
Payment settlement;
Accounts payable maintenance.
The Procure-to-Pay process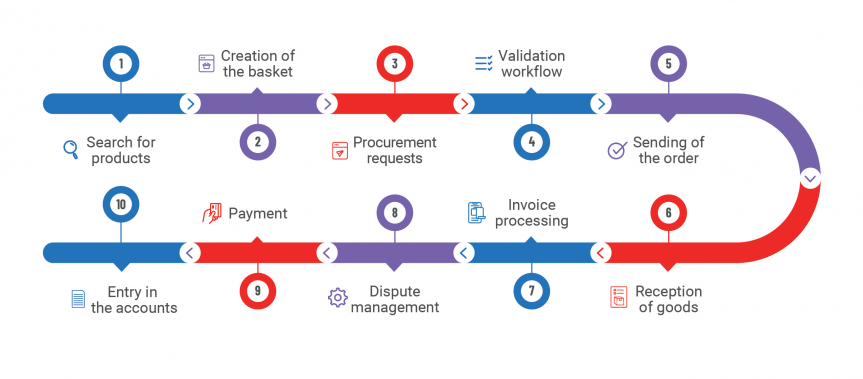 Of course, each company designs its own Procure-to-Pay process and may incorporate additional steps. The P2P procurement can be adapted to each business and company. It is about making the procurement process as efficient as possible.
What are Procure-to-Pay solutions?
Procure-to-Pay solutions involve presenting suppliers' resources to users (through electronic catalogues such as Punch-Out, e-catalogues, or APIs[1]), and then digitalising, automating, and optimising the procurement and financial processes. They incorporate control, verification, validation, and document management activities, thereby allowing companies to exercise greater control over their spending and improve efficiency.
The research and advisory firm Gartner shares its definition of Procure-to-Pay from a technological point of view: "As its name implies, a procure-to-pay (or purchase-to-pay) system is a fully integrated solution designed to support an end-to-end process that begins with goods and services requisitioning and ends with ready-to-pay files for upload into an accounts payable system. Procure-to-pay solutions use a scan-and-capture service, supplier portal and/or a multi-enterprise network to enable suppliers to submit invoices electronically. In addition to core e-procurement functionalities (including e-requisitioning, approval workflow and e-catalogue management), procure-to-pay solutions offer purchase-order-to-invoice matching and processing for invoices that don't match or when goods are returned."
This definition of a company's procurement process demonstrates the value of digitalisation and the many benefits of its implementation.
What are the benefits of Procure-to-Pay solutions?
Solutions associated with a company's procurement process are powerful performance drivers for procurement departments, allowing them to optimise system efficiency and improve visibility and control, as well as enabling teams to enhance their skills.
Optimising process efficiency
Process automation reduces labour costs, processing times and risks. This has a direct impact on the productivity and profitability of a company.
However, optimising the system is only the first step. The next important step is to look at the results generated. A well-thought-out purchasing experience combined with an effective P2P technology makes it easier for buyers as well as for suppliers and accounts payable managers. Such complete control over the procurement system saves the company a lot of time and money.
Improving visibility and control
By consolidating data, companies have better visibility and therefore better control over their spending.
An integrated Procure-to-Pay solution also enables end-to-end supply tracking and the detection of costs that could be reduced.
Depending on the chosen P2P solution, it may be possible to work in real time. This provides full visibility and significantly improves the supplier relationship.
Upskilling teams
Freed from repetitive administrative tasks, procurement teams can devote their time to more strategic projects. They can thus follow the latest developments in their field of specialisation or learn about innovative practices. An improved analysis is therefore not the only advantage of implementing a Procure-to-Pay process: the procurement partners' newly acquired expertise will have a direct impact on the company's productivity and hence its turnover.
As the Procure-to-Pay process is relatively easy to automate, this allows procurement departments to focus on higher value-added tasks such as sourcing, innovation, end-user outreach and strategy.
P2P is therefore a solution that improves resource distribution. By analysing the procurement process, this system can then be fine-tuned to optimise it even further.
---
[1] Application Programming Interface