The aim of e-procurement is to dematerialise commercial transactions between businesses and their suppliers via digital solutions in order to optimise the procurement process.
In this file, you will find the answers to all of your e-procurement questions:
The "e" in "e-procurement"stands for "electronic", while "procurement" is synonymous with "purchasing". There are numerous other names for it: online procurement, e-purchasing, e-procurement solutions etc.
The French Ministry of Culture defines e-procurement as "the centralised management of a business's purchases and supplies on an electronic platform."
It is important to note that e-procurement is only suitable for business purchases, i.e. the Business-to-Business (B2B) sector. It does not include the Business to Customer (B2C) sector which only includes personal and one-off purchases.
The electronic platforms, on which e-procurement is hosted, dematerialise the act of making a purchase, in relation to the whole Procure-to-Pay (P2P) process, or part of it, which includes three major stages:
Product selection
Order placement
Invoice management and payment
It should be noted that there is a difference between e-procurement and e-sourcing[1], which covers the Source to Contract[1] (S2C) process.
Procurement lifecycle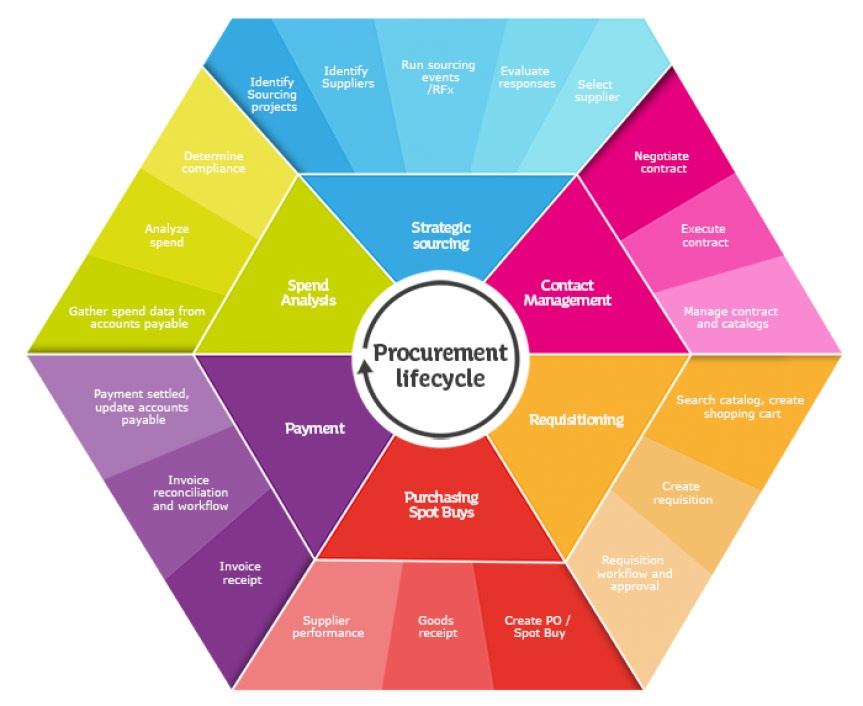 E-procurement is primarily aimed at four groups within a business:
The purchasing department, which sets and optimises procurement strategies.
End users, the source of the need, who place orders.
The approver, who confirms the orders.
The finance and accounting departments, which accepts the orders and invoices, and make payments.
E-procurement comprises three major steps, specific to the Procure to Pay process:
1. Product selection
Businesses go on a specific platform, which might be an online catalogue, a PunchOut[2], a B2B retail site etc., and may possibly be hosted through a marketplace. They then have access to the supplier's entire product range, including contractual conditions (selected products, discounts etc.).
They choose their products and send their purchase request with a single click. The purchase request is then incorporated into their purchasing system to follow the predefined workflow.
2. Order placement
Once confirmed, the purchase request becomes an order. This is automatically sent to the supplier concerned as an electronic document or via a marketplace. The supplier then immediately prepares the products for delivery.
3. Receipt of the invoice
The invoice can also be dematerialised: businesses receive the invoice, certified by a trusted third party as a PDF file or an electronic document, which automatically accepts the order and triggers payment.
The three steps of e-procurement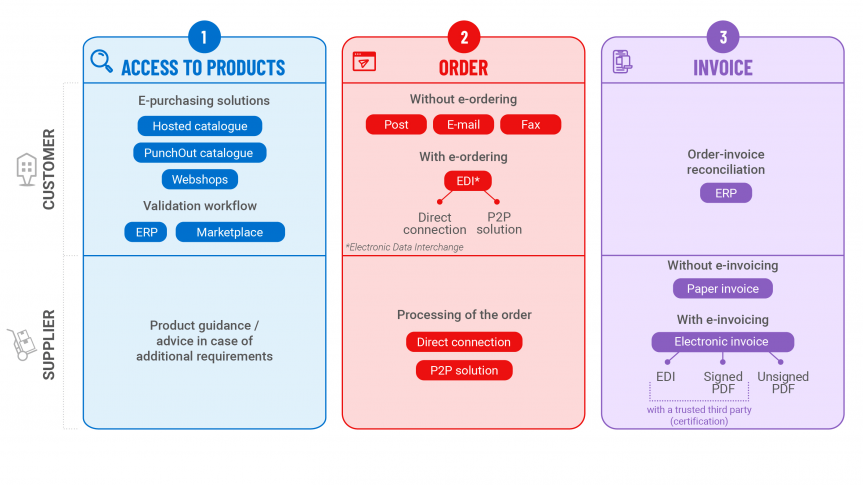 As you will have understood by now, e-procurement allows you to centralise and automate interactions between stakeholders (end users, procurement department, suppliers etc.) to ultimately optimise the procurement process, including procurement management and strategy. There are four major benefits to bear in mind:
1. Financial savings
The costs of a standard transaction are estimated on average at £82 (€95) and those of a 100% digital transaction (from product selection to payment) are less than £16 (€19)[3]. This is due, in particular, to lower labour costs, as the process is fully automated. In regards to the number of orders, including indirect purchases, the financial gains are significant.
2. Eliminating processes with low added value
Eliminating administrative and manual tasks allows teams to improve in speed and efficiency, while reducing the error rate from 30% to 50% on average[4]. Sending purchase orders, requesting confirmation, accepting the order and the invoice etc. are all automated processes. Teams can therefore focus on tasks with greater added value.
3. Reduce lead times
Whether it's placing or confirming orders, the process is simpler and transparent for businesses. Downtime, reminders or administrative papers that need to be processed and filed all disappear, which means saving considerable time in the procurement process. Moreover, as the order is directly converted into a packing slip on the supplier's end, this ultimately allows for quicker deliveries to the businesses.
4. More control over expenses
E-procurement allows companies to benefit from a clear and real-time view of their expenses (those placing orders, procurement process etc.) through a reporting system. They can therefore have greater control over their expenditure, manage their budget more accurately and improve their strategy by finding areas of improvement.
---