Well-being in the workplace has become a strategic challenge for businesses, both in terms of performance and/or recruitment. The workplace is just one of many factors that still plays a major part in contributing to well-being at work, and to the health, motivation and effectiveness of employees. In this respect, facility management departments have a daunting task: How do you promote well-being in the workplace within a company?
The latest Actineo study set out to understand, analyse and measure how French working lifestyles have changed. It highlighted two tools for well-being in the workplace:
Some 22% of respondents said that they were very satisfied with their workplaces and that their workplaces had been adapted to their needs.
Today, two thirds of employees work in an individual office, compared to one third in an open-plan communal space. Also, hot-desking (not having a designated workstation) is becoming more popular and 14% of employees now work in this way. The good news is that this reality is perfectly in line with what workers expect.
But things are a bit different when it comes to additional spaces. While having a tea/coffee area is very popular among companies, other spaces are extremely varied. No other option seemed to be the next stand-out favourite for promoting well-being in the workplace (open-access kitchen, break room, central meeting room, green spaces etc.).
Situational analysis of workspaces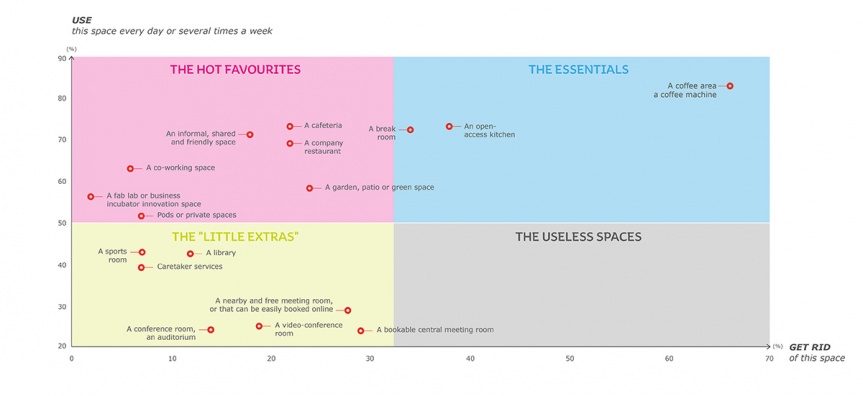 Again, 22% of those surveyed said that they were very satisfied with their equipment (computer, tablet, network etc.) and 19% with the quality of the furniture and the layout of their workstations.
Today, basic workstation equipment very often includes a combination of the following three items:
A workstation for connecting mobile digital equipment (laptop, tablet etc.).
A mobile or fixed storage unit for storing personal belongings (locker, box, cabinet etc.).
Individual lighting that can be adjusted to suit.
However, employees would like those little extras to improve their comfort, health and well-being at work:
48% wanted a height-adjustable table
46% wanted connected "smart" furniture
43% wanted adjustable ergonomic seats
41% wanted items to limit background noise
41% wanted another type of seat that is better adapted to individual body needs
Situational analysis of office equipment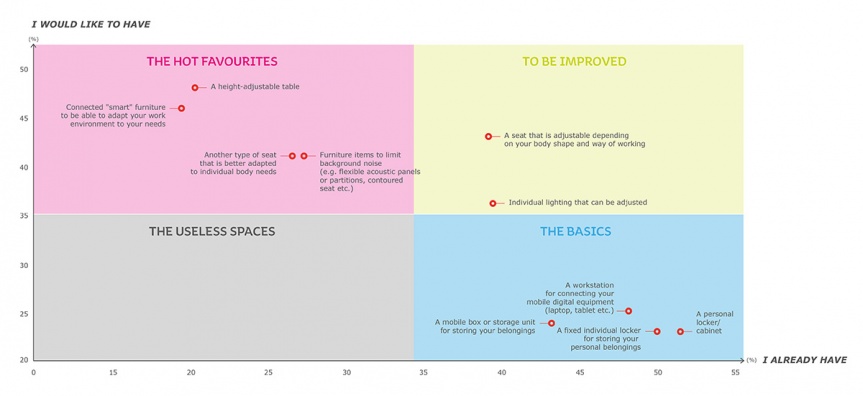 Less than a quarter of employees were very satisfied with their work environment. There is still plenty of room for improvement when it comes to well-being in the workplace. Facility management departments need to listen to their internal customers to understand their specific needs and expectations for workspaces and equipment.
The main aim for facility management departments is, first and foremost, to support the business strategy and to make the daily lives of their colleagues easier, based on changes to traditional work patterns and the emergence of new working practices (smart office, flex office, teleworking etc.).