As we saw in the first part of this post, indirect procurement teams manage numerous product categories, suppliers and internal customers simultaneously. In comparison to strategic procurement, one of the main characteristics of indirect procurement is that departments interact with a large number of stakeholders. While certain skills such as negotiation remain essential to procurement, indirect buyers must also develop specific core skills and soft skills.
Core skills: Strengths and weaknesses
At the last ProcureCon Indirect Europe event, indirect buyers evaluated their skills. While they believed that they managed their product categories and suppliers well, they felt that there was room for improvement in terms of sustainable procurement and managing stakeholders. The results regarding risk management were ambiguous, most likely due to the regulatory environment and continually evolving risks, which require constant attention.
Overview of skills for indirect procurement teams[1]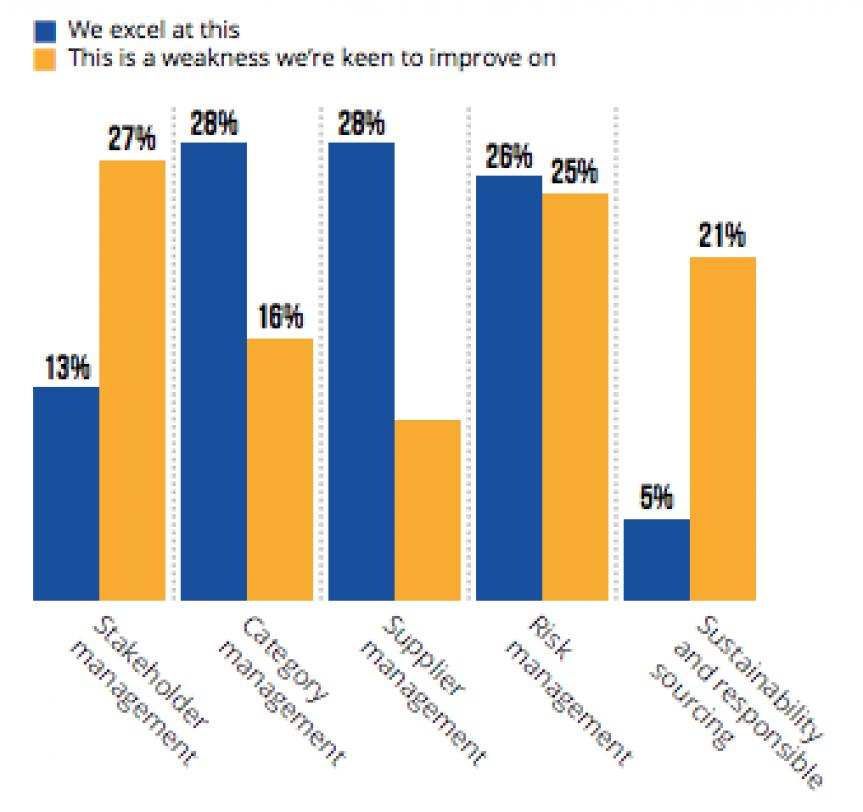 Soft skills: The essentials
Undoubtedly, the relational skills required for both emotional and social intelligence are essential for indirect procurement, and can be summed up in three key words:
1. Knowledge
Francis Bacon once said, "Knowledge is power".
This quotation applies perfectly to the world of procurement. To meet the needs of their internal customers, indirect buyers must know both their company and business departments, in addition to being aware of the employees and their needs. However, their role extends even further. In order to add value and create opportunities, they must understand their environment, be on the lookout for innovations and listen to their suppliers.
Behavioural skills: curiosity and adaptability
2. Communication
To forge links with stakeholders, indirect buyers must be able to convert any key information that they may have, such as expenses and risks, into a format that is accessible and digestible for everyone. The difficulty is that indirect buyers interact with an extremely varied group, ranging from users to decision-makers, with different cultures and hierarchical levels involved as well.
Behavioural skills: active listening, empathy and transparency
3. Teamwork
Listening and talking to stakeholders, in addition to taking time to reflect, is essential for building trusting relationships and gaining the network's support, which in turn creates value. Imagine the complaints you could cause by changing a company's IT support or the software that they use (such as the messaging system) without consulting the IT teams or even the end users first.
Behavioural skills: people skills, leadership, diplomacy and pedagogical skills
These types of soft skills are increasingly becoming an integral part of training programmes. Gordon Crichton, Director of MAI in Bordeaux, shares this opinion: Given that procurement is increasingly being integrated upstream in order to be part of the 'big picture', alongside R&D or marketing, the development of relational skills is the key to the success of projects.
Indirect buyers become true business partners within their network, positioning themselves somewhere between a mediator and an influencer. As Nathalie Merminod, lecturer at Grenoble IAE, reminds us in her article "New roles and skill profiles of purchasers": Success or even procurement performance depends on the ability to manage relationships. In indirect procurement, now is the time to be a team player.
[1] ProcureCon Indirect Europe, Navigating a Digital Landscape: Bringing Sustainability and Innovation to the Indirect Procurement Process