Manutan supports and guides its customers in streamlining their indirect purchases. Setting up vending machines is one of the many solutions available to companies for improving their logistics processes. This type of project is convincing a growing number of companies in light of the results achieved. That is why Manutan decided to follow its own advice by installing a CribMaster* vending machine stocked with industrial consumables in its warehouse in January. Take a detailed look at the key stages.

Improving product availability in the warehouse
Until recently, the way in which products were distributed to users was anything but satisfactory, and the process for tracking expenses was performed manually. Managers selected different products and users had to travel around to get them, which is a widespread occurrence in companies.
Expectations were therefore high when the project was launched, including stock visibility and user safety, as well as direct and indirect cost control.
"The idea is to provide the right product in the right place, at the right time and for the right purpose!" explains Patrick Huser, European Service Account Manager.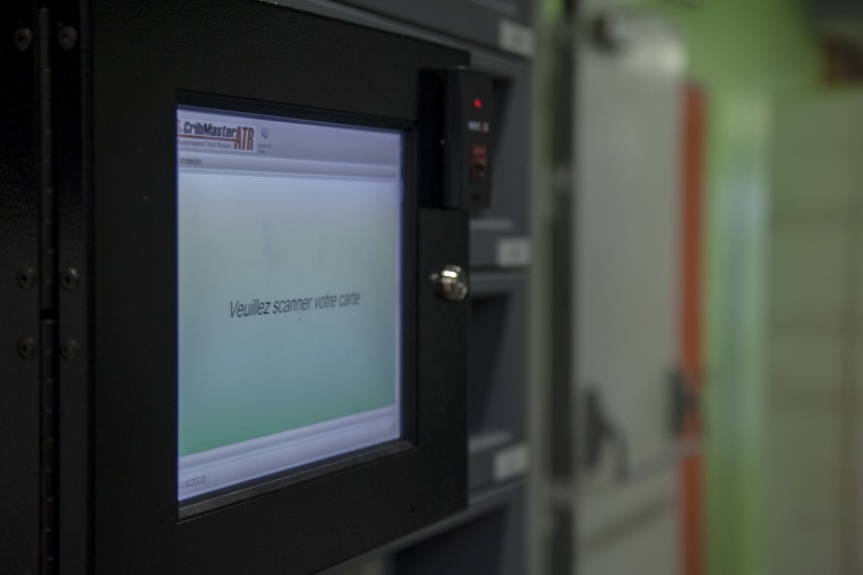 Objective: streamlined products
To define which products were to be stocked in the carousel vending machine, a survey was conducted among all warehouse employees, from inbound logistics to outbound logistics. Two types of fast-moving PPE (personal protective equipment) were identified: gloves and utility knives.
In an effort to improve the process, two types of gloves in several sizes were chosen for every kind of activity: cut-resistant gloves as well as softer gloves to ensure an easy grip. Users now have access to the right products according to their job within the warehouse, thereby reducing the risk of work-related accidents.
Only one brand of utility knife has been chosen. Knives are kept in their packaging for safety reasons.

Products within easy and immediate reach
The vending machine has been strategically placed in the main entrance of our 41,000 m² warehouse. This means that employees can grab the products that they need on the way to work without having to go on a detour. This idea has considerably saved time and improved productivity!

The system is highly intuitive. Employees scan the badge that they already use to enter the site, the restaurant, and so on, across the machine's dedicated reader, and they are automatically identified. The machine then allows them to choose the required product(s).
In terms of replenishment, two Manutan employees, Reinald Huillier, Storage Business Team Manager, and Thierry Pionnier, are responsible for restocking the machine once a week. Reinald actually does the same thing for our customers equipped with vending machines. By analysing their colleagues' product use, they will soon be able to narrow down the replenishment intervals.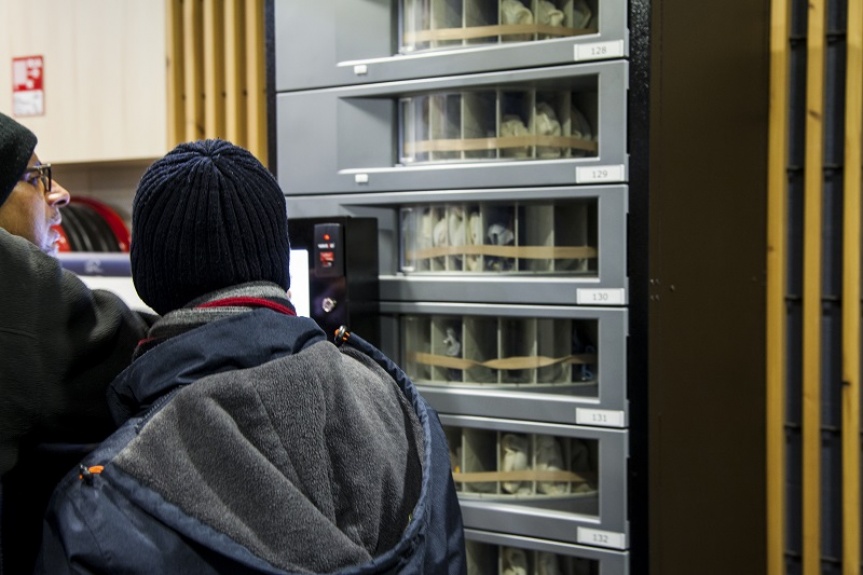 A prerequisite: lead change
It is essential to raise awareness among users and explain the reasons and advantages of the new process.
"We want to empower them and raise the efficiency bar. They often mistakenly think that we are looking to keep an even more watchful eye on their every movement. The opposite is true. The idea is to increase their independence by simplifying everyday life and reducing risks," explains Reinald/Laurent El Baze, Supply Chain Operations Director.

Managers have been trained how to use the machine and have the crucial role of informing, training and guiding.

Until such time as the initial results are published in the next few months, our warehouse is transforming into a showroom! Customers have already started visiting the warehouse. If this logistics solution has caught your interest as well, we would invite you to see and chat about our carousel vending machine with our experts.
To arrange a visit, please call Patrick Huser
on +33 1 34 53 36 13 or by email at patrick.huser@manutan.fr
*A global leader in inventory and asset management solutions for industrial environments