A driver of improved productivity, agility, and resilience, digitalisation remains one of the main strategic priorities in procurement. As part of their company's digital transformation, purchasing departments are mobilising, starting with the automation of their processes. To date, more than 48% of their transactional processes (Procure-to-Pay) and 36% of their strategic processes (Source-to-Contract) have been partially or fully automated, according to a study carried out by PwC[1]. And, given the investment expected over the next few years, this is only the beginning. Read our 10 key recommendations for the successful digitalisation of procurement.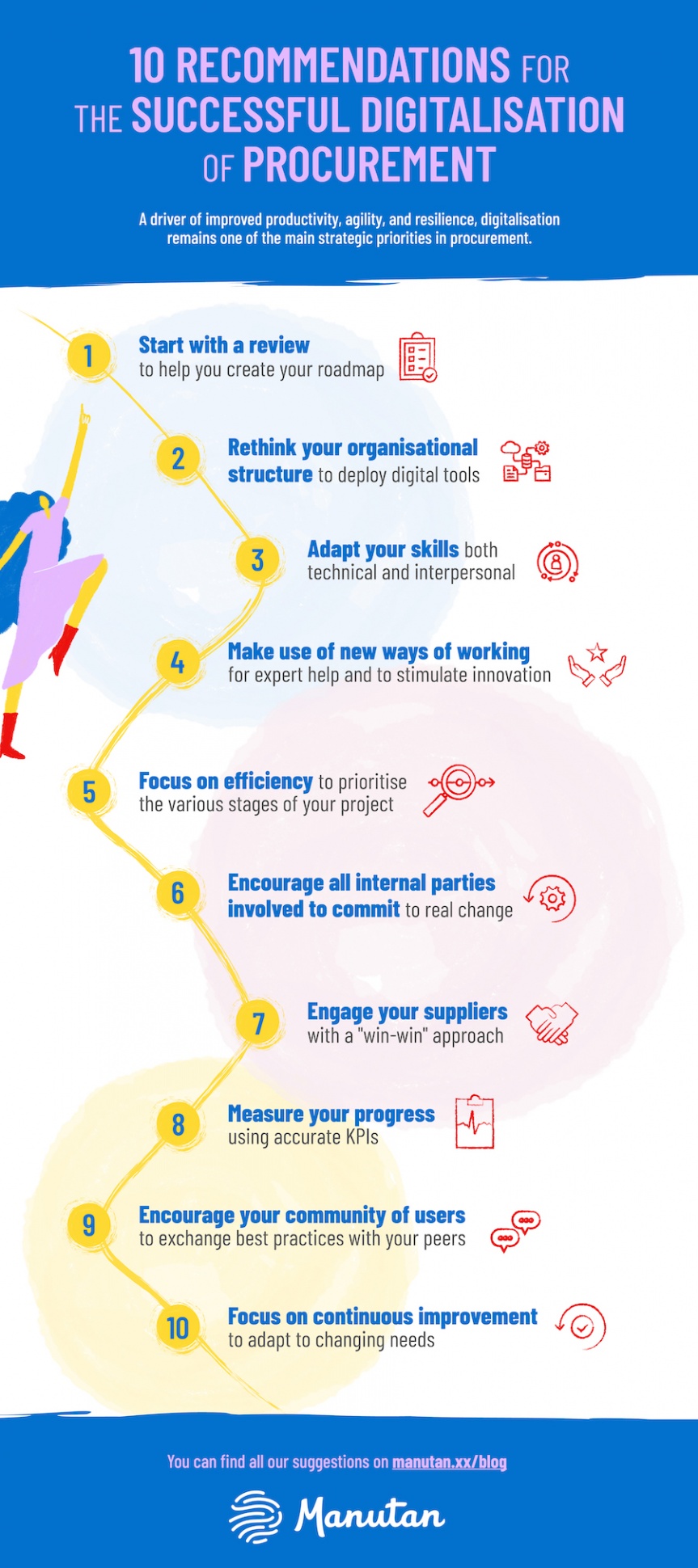 1. Start with a review
Naturally, the first step is to collect information on purchasing procedures, transactional channels, the supplier portfolio, etc. It is essential to examine the deadlines, costs, quality of execution, and resources used in each purchasing procedure. By obtaining a clear overview, you will be able to create your roadmap, define your objectives, and set your priorities. Of course, you have to be ready to adapt your existing processes to the solutions that will be put in place later.
2. Rethink your organisation
In small organisations, the process of innovation and digitalisation can be relatively straightforward. However, the same cannot be said for larger companies. Larger companies must organise themselves to collect, select, and deploy the digital tools and new technologies their purchasing department will need. Some companies will create special departments dedicated to stimulating innovation and reporting to the purchasing department, while others will create specialised positions, to manage purchasing data, for example.
3. Adapt your skills
With the digital revolution, buyers will have some very useful tools available to assist them in their daily tasks. At the forefront of the digital revolution are Big Data and Artificial Intelligence, which will provide buyers with advanced, even predictive, analyses to help them in their decision-making. However, to get the maximum benefit from these solutions, buyers will need to improve their technical and interpersonal skills specific to the digitalisation of procurement. These will include mastery of the tools, critical thinking, and computational thinking.
4. Make use of new ways of working
To help their companies complete an agile digital transformation, purchasing departments can turn for help to the new types of worker, such as the self-employed, freelancers, or even interim managers. To support their internal teams, the purchasing department has every incentive to structure itself using external workers to help them cope with the volatility of its workload, but also to provide additional expertise and innovation. This is also one of the main challenges of digital transformation for companies.
5. Focus on efficiency
The whole point of starting along the path to the digitalisation of procurement is to improve the efficiency of its processes. Therefore, it is advisable to prioritise the steps along this path according to the value that they can generate. This is also the reason why purchasing departments most often start their digitalisation project by digitising their Procure-to-Pay process. The return on investment is generally rapid and substantial! Then, they usually focus on the automation of low value-added, time-consuming, and repetitive administrative tasks, using robotic process automation and the analysis and visualisation of data.
6. Encourage all internal parties involved to commit
It is essential to remember that technology was created to serve people. This is why the support of internal stakeholders (business departments, sponsors, etc.) is key to the successful digitalisation of procurement. It will be necessary to implement a real change management process, starting by consulting with everyone upstream of the project, to inform them of the coming changes and to ensure that their expectations are met.
7. Involve your suppliers
While the co-operation of internal customers is essential to the success of a digitalisation project, involving your suppliers is just as important. To do this, you must adapt to their business environment and support them by adopting a "win-win" approach. As with any change management, remember that communication is key.
8. Measure your results
Whatever the status of your digitalisation maturity, it is essential to assess the impact that your digital strategy is having. To do this, it is important to analyse several key performance indicators. For the digitisation of the Procure-to-Pay process, you could monitor, for example, the rate of dematerialisation of orders and invoices, or the rate of reconciliation of invoices to purchase orders at the first attempt.
9. Ask for help from the user community
Whatever solution is being implemented, you are probably not the first to use it. It can be very useful to talk to the existing user community that is facing the same issues as you. Ask your editor if there is a user club and if they are hosting meetings! You will be able to share your experiences and good practices with your peers.
10. Focus on continuous improvement
Finally, it is essential to regularly assess your digital processes. Because the needs of stakeholders constantly change, and any process can be improved, it is essential to regularly check the quality of the data being collected, how effective the new company rules are, the satisfaction level of your internal customers, etc.
The success of your procurement digitalisation project depends, above all, on having a clear vision of what you want to achieve, and on the close co-operation of all those involved. Change management and the human dimension are of fundamental importance.
To find out how to integrate CSR into your company's procurement policy, download our white paper.