Managing the MRO category (Maintenance, Repair and Operations items) is not always easy, with hundreds or even thousands of products scattered across a vast number of suppliers.
To get MRO under control, a good procurement strategy covering three main steps is needed: digital solutions need to be introduced and combined with a VMI (Vendor Managed Inventory) programme in order to ultimately streamline the supplier base.
What is MRO?
MRO (Maintenance, Repair and Operations) is an umbrella term covering all maintenance parts used for repairs or to support production operations.
Whilst they are classed as indirect purchases, this procurement category plays an essential role in day-to-day operations.
However, a decentralised approach is often taken towards them. This means that each site processes their own purchases, with no consolidation of data or expenditure.
MRO: A three-step procurement strategy
Procurement strategy no. 1: Digital solutions
Digitalising transactions allows for the automation of certain low value-added processes and for a better overview of expenditure. PunchOut catalogues are particularly relevant to MRO. PunchOut catalogues directly link the buyer's e-procurement system to the supplier's site, allowing the supplier's offer, which is updated automatically, to be accessed in real time.
Procurement strategy no. 2: VMI programmes
In Vendor Managed Inventory programmes, it is the external supplier who takes full responsibility for stock. This leads to a reduction in consumption (by an average of 20%), improved expenditure management and the disappearance of low value-added tasks for procurement teams.
Procurement strategy no. 3: Supplier rationalisation
In view of the large number of transactions and suppliers associated with this category, supplier rationalisation remains one of the main procurement strategies. On the one hand, this means reducing the number of suppliers. However, above all, it means strengthening strategic partnerships with other suppliers, who offer a large range of products.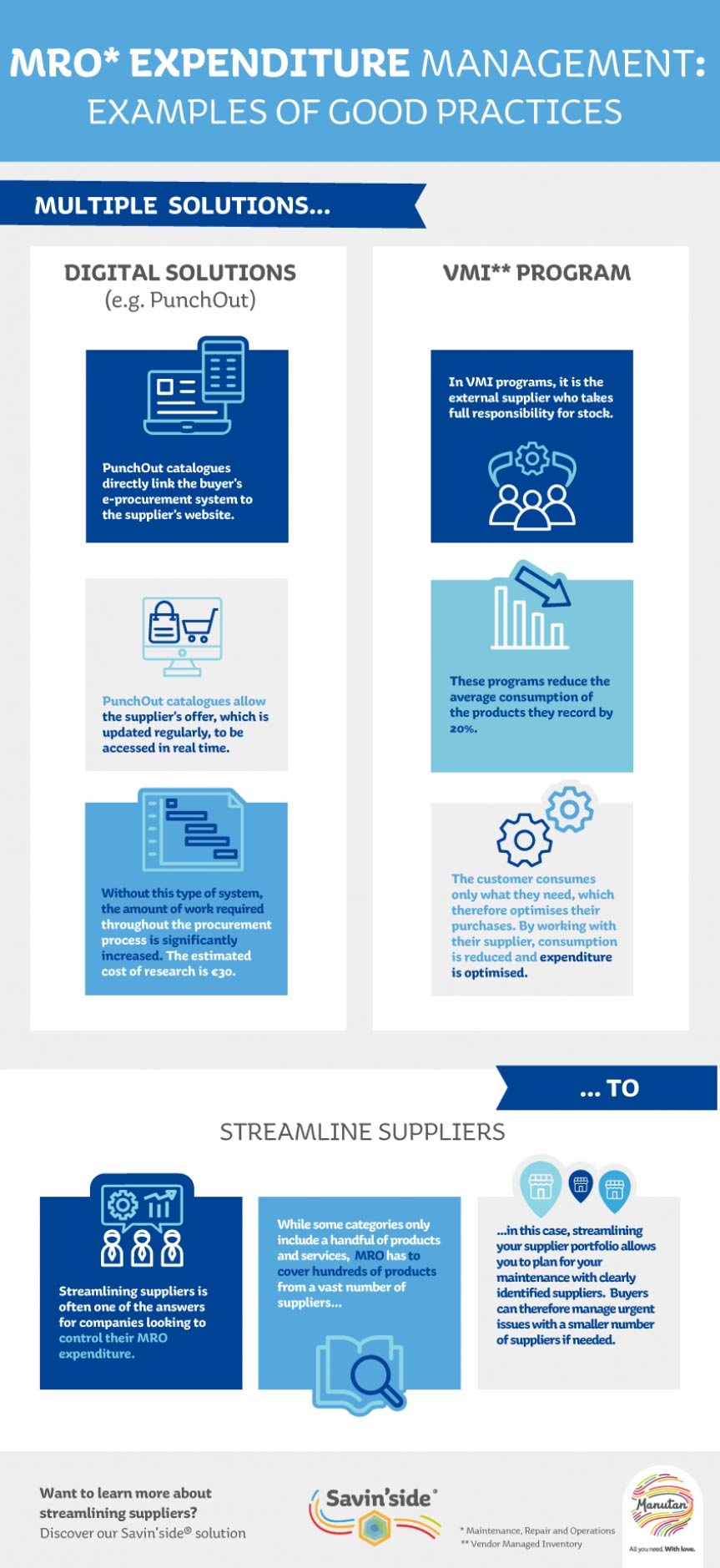 Finally, for better control over MRO expenditure, the procurement strategy must improve visibility and eliminate hidden costs found both in orders and stock and supplier management. To top it off, savings can be made, productivity enhanced and teams can focus on higher value-added tasks.