In an effort to comply with new legislation governing waste management in the workplace, Capgemini decided late 2016 to equip all its French sites with selective sorting stations. After teaming up with Rossignol, one of its top-tier suppliers, Manutan bid on the invitation to tender and was ultimately chosen to support Capgemini with its ambitious project.
New legislation governing waste management in the workplace
In the wake of French Regulation no. 2016-288 of 10 March 2016, the five types of recyclable waste (paper, metal, plastic, glass and wood) must be sorted by all companies that generate and hold such waste in France. Two major solutions are available for complying with the requirements of the new regulation: sorting at the source (each type of material sorted individually) or subsequent sorting in an automated centre.
Capgemini: committed to protecting the environment
"We recognise that we have a role to play in preserving natural resources and biodiversity while combating pollution and climate change. We're committed to minimising our main impacts on the environment. That is why we've set up a waste management policy this year across all our sites in France. In particular, we've decided to implement a selective sorting system at the source to empower and engage our employees with the approach," explains Claude Dalbera, Head of Facilities Management at Capgemini's "Seine Etoile" site.
This project featured two key changes:
Elimination of individual bins at workstations in shared spaces
Creation of collection stations for volunteers to bring along and sort their waste
A methodological action plan
The teams at Capgemini and Manutan began by scoping the project:
Creation of a stylish custom-designed metal container featuring several advantages, such as easy emptying, service life three times longer than plastic containers, no odours and excellent stability.
Installation of a collection station (set of three bins for paper, OIW* and plastic cups) for 18 to 20 people and 150 to 200 m² in case of open spaces.
Creation of an additional collection station (OIW, plastic cups and metal) for each social area, such as the cafeterias and dining areas.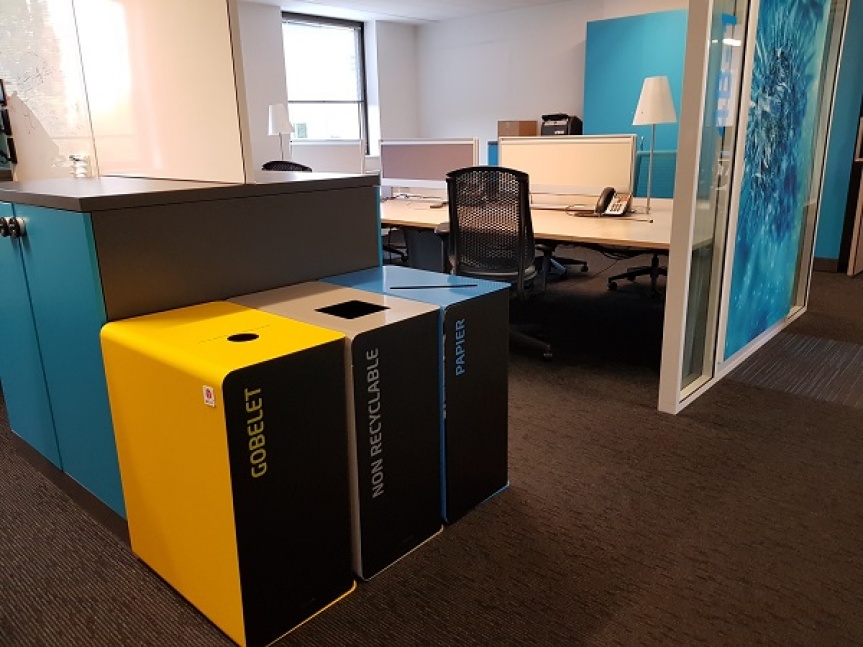 Since Suresnes employs close to 1,400 people and covers a surface area of 16,000 m², it was chosen as the pilot site. Tests quickly proved to be conclusive. Only two iterations were made: the opening system for the bins was slightly modified, and a new collection station was added (plastic cups and paper) in the meeting rooms.
With the bins finalised, the installation points identified and the internal communication plan launched, close to 750 containers were supplied to the other sites in France, representing a total of no less than 250,000 m² of space to be fitted out.

Communication: key to the project's success
Internal communication is aimed at two goals: increase the sense of responsibility among Capgemini's employees and provide them with guidance in implementing this green initiative. Four actions have therefore been defined:
Provide clear instructions on the containers to familiarise employees with the company's new practices.
Send out a newsletter written by Manutan to all employees to give them an insight in the challenges involved in selective sorting.
Offer training for everyone on selecting sorting.
Launch a fun questionnaire about the subject with prizes for the winning entries.
Within the space of a year, containers have been installed at Capgemini's 13 key sites in France, and employees are now prepared to incorporate the new waste management policy into their everyday actions. Following the enactment of Regulation no. 2016-288 of 10 March 2016, several companies have ultimately been required to look into the issue of waste management, whether sorting at the source or automated sorting.
About Capgemini
A global leader in consulting, technology services and digital transformation, Capgemini is at the forefront of innovation to address the entire breadth of clients' opportunities in the evolving world of cloud, digital and platforms. Building on its strong 50-year heritage and deep industry-specific expertise, Capgemini enables organisations to realise their business ambitions through an array of services from strategy to operations. Capgemini is driven by the conviction that the business value of technology comes from and through people. It is a multicultural company of 200,000 team members in over 40 countries. The Group reported 2016 global revenues of EUR 12.5 billion.
For more information, visit us at
www.capgemini.com
.
People matter, results count.

*Ordinary industrial waste