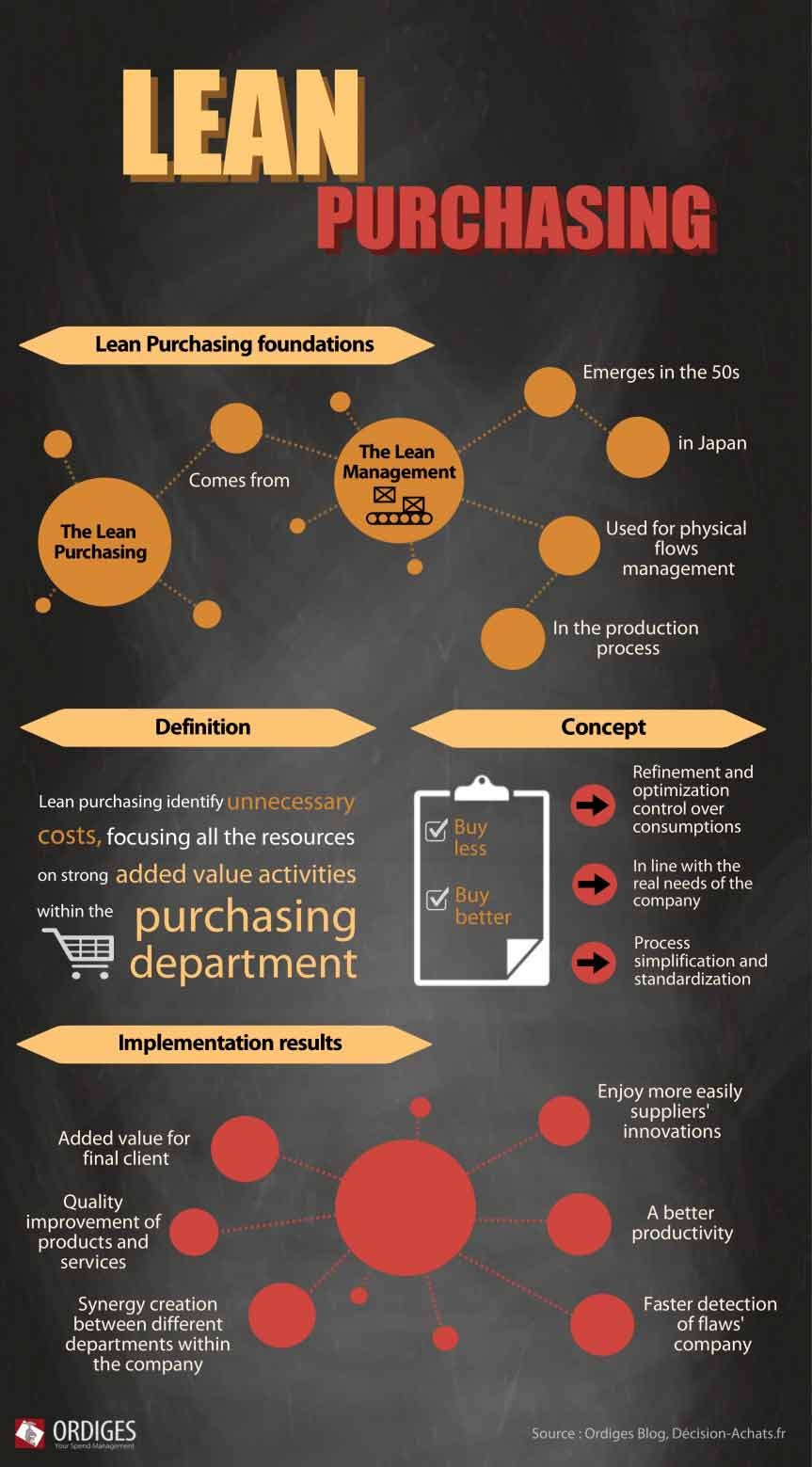 Lean purchasing, inspired by lean management, is not a new concept. It is likely that you would have heard about it for years, but are you aware of the key points? Let's go back to the basics and use the infographic to look at both the definition and the benefits of this well-known method.
Lean purchasing: The basics
Lean purchasing is based on a method used in Japan in the 1950s to boost the economy in the difficult post-war period. The idea was to produce enough to meet the country's needs, but by using minimal resources. With this in mind, the basic foundations of industrial methods, principles and tools were established and are still in use today, such as visual management, for example.
In the 1980s, MIT (Massachusetts Institute of Technology) reworked and refined these concepts to turn them into internationally renowned methods that we are all aware of today.
Today, lean purchasing goes hand in hand with operational excellence. Initially used to manage physical fluctuations, the concept can now be applied to any situation, even procurement departments.
Lean purchasing: Definition and philosophy
Ordiges defines lean purchasing as a method that involves identifying sources of unnecessary spending by reviewing the value chain and focusing all resources on high added-value tasks for the procurement department.
This philosophy is based on two major factors:
Buying less: carefully controlled and optimised consumption in line with the real needs of both the company and internal customers
Buying better: simplification and standardisation of processes, optimisation of productivity and services (deadlines, punctuality etc.)
Lean purchasing: The results
Overall, this method improves the productivity and performance of procurement departments. However, lean purchasing also offers qualitative benefits, in particular enabling companies to:
Create more value for the end customer
Improve the quality of products and services
Create synergies between various company departments
Benefit more readily from supplier innovation
Pick up on the company's shortcomings more quickly
Ultimately, this means strengthening the legitimacy of the procurement department and giving it greater recognition within the company. Are you ready for operational excellence?