Tail spend represent small purchase amounts and are often wrongly considered to be unimportant, or "non-critical". These are products, goods or services that a company purchases to ensure that it continues to run smoothly. The nature of these purchases means that they are scattered across every entity and department within a company.
Class C purchases or tail spend
According to the Pareto Principle, where purchases are sorted into three groups, class C purchases better known as tail spend make up 50% of purchasing sub-categories (or segments) and 5% of the company's total procurement budget. They therefore cover a significant number of items purchased with a low procurement budget. In general, different departments within a company do not order these tail spend on a regular basis.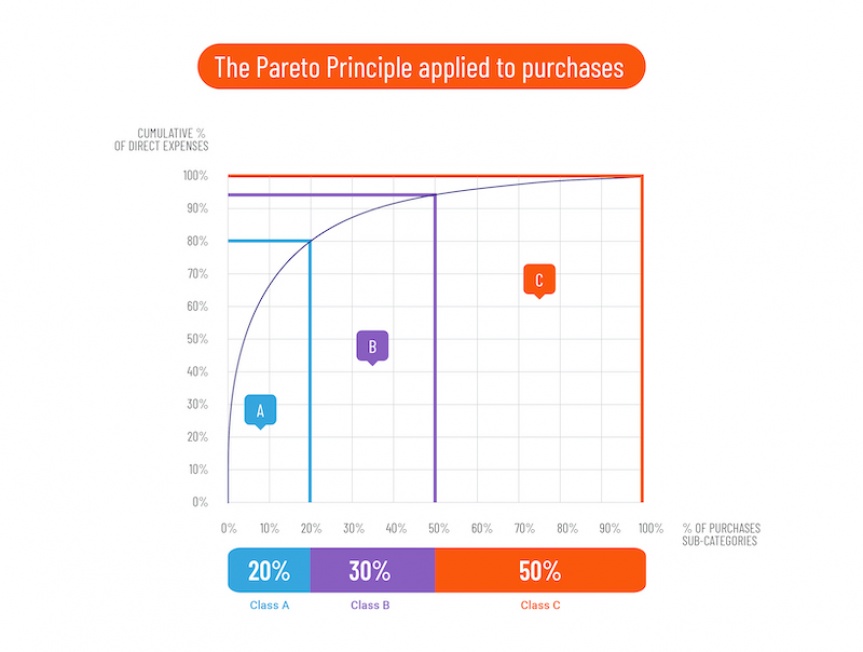 The difference between class A, B and C purchases
Pareto's Principle is also known as the "80-20 Rule". By prioritising purchases based on expenditure, it has been noted that in most companies:
Class A purchases represent 20% of the total number of purchasing segments and account for 80% of a company's total expenditure.
Class B purchases represent 30% of the total number of purchasing segments and account for 15% of expenditure.
Class C purchases also called tail spend represent 50% of the total number of purchasing segments and account for 5% of expenditure.
As a result, despite of their low value, class C purchases alias tail spend represent a strategic challenge for companies:
Firstly, tail spend can be risky, as Dr Natacha Tréhan explained in her article: What strategy should you adopt for tail spend? These are therefore known as "critical purchases". These may refer to certain smaller purchases which require European standardisation or need to comply with safety criteria (power tools) or may even apply to delivery times over the winter (if your de-icing salt is not delivered in time, your warehouse will no longer be accessible).

Secondly, class C purchases alias tail spend, even if they only involve small amounts, they have significant hidden or indirect management costs (number of items purchased, number of orders, number of suppliers, number of invoices etc.), as seen in the diagram below.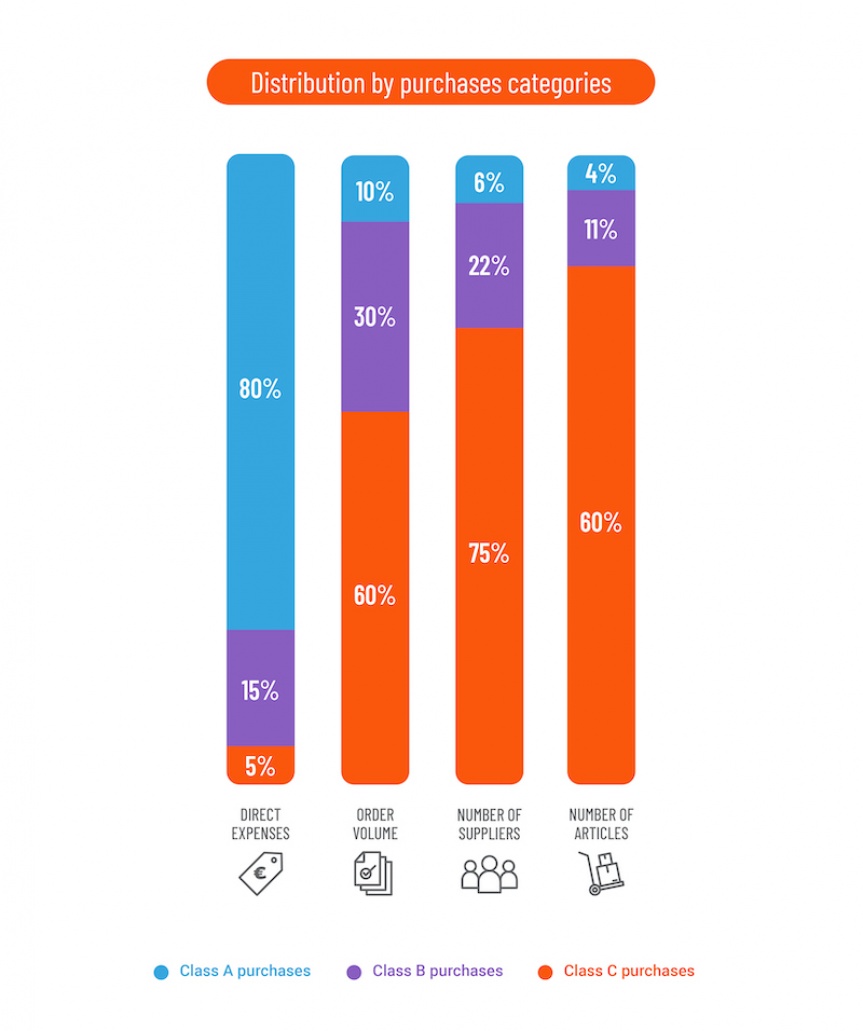 The real savings potential of tail spend
Class C purchases so-called tail spend are responsible for 85% of items purchased by the company, generate 60% of orders and use 75% of suppliers (source: Manutan). Managing how they are supplied, the associated accounting costs and the process with which they are purchased (selection of suppliers, negotiation, monitoring etc.) all drastically increase the total cost of ownership (TCO), which sometimes even exceeds the purchase price.
The concept of Total Cost of Ownership (TCO) should be systematically applied to tail spend to obtain a clearer understanding of their relative bearing on the company's entire procurement process. Once the company is aware of how important tail spend are, all that is left to do is optimise them!