When we consider that tail spend constitute most of a company's order volume, it makes sense to optimise transactional processes. This is all the more important because the administrative costs sometimes exceed the purchase prices of these products, which are considered to be non-strategic. Let's look at the case study of a large construction company that has focused on dematerialising its transactions with a view to reducing its total cost of ownership (TCO).
Using the Savin'side® method
Manutan developed the Savin'side® method to help large companies optimise their tail spend. By analysing a given company's data using six key levers, Manutan is able to identify areas for improvement and help the company gain control over this type of purchase. The company can then save money and boost its competitive position as a result.
In this case study, Manutan worked with a large construction company with a turnover of €750,000,000, and an annual expenditure of €1,460,000 on tail spend.
The three-step method
1. Conducting an audit
First, Manutan began by analysing the rate at which transactions carried out by the company were being digitalised. By comparing this information with Manutan's internal industry baseline, the distributor was able to get an accurate idea of the possible margin for progress. In this specific instance, both partners had already set up a Punch-Out catalogue, but it was rarely used by staff at either site. Transactions were sent exclusively by email and fax.
2. Implementing an action plan
It became clear that the specific working environment of the construction sector was imposing constraints on the implementation of the procurement policy. The company therefore decided to move towards an e-procurement solution that could be accessed via mobile phone to encourage its adoption among employees. Alongside this, Manutan organised a deployment campaign by conducting visits to the various sites to increase awareness of the solution among its potential users.
3. Monitoring and making improvements
Because this action plan was part of a continuous improvement approach, both partners implemented a monitoring system in the form of quarterly reporting. Together, they tracked activity and were able to initiate corrective actions where necessary, such as a deployment campaign to users.
Positive results
One year after the launch of this project, the company is seeing encouraging results. In effect, 65% of transactions are now fully digitalised and the number of orders has decreased by nearly 7%. This is because users now tend to order in bulk thanks to the introduction of a minimum purchase amount in the e-procurement solution.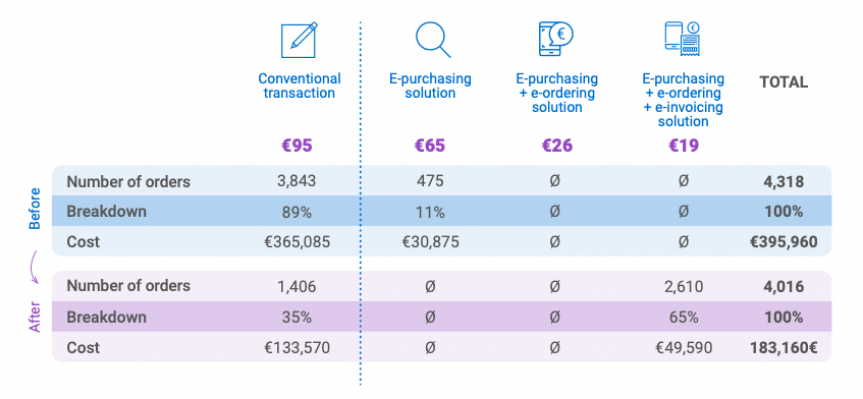 Finally, the company saved €212,800 in the first year by digitalising its transactions. Beyond purely monetary results, the use of the e-procurement solution has also enabled the company to strengthen its purchasing policy, de facto reducing their unscheduled purchases, and to streamline deliveries by bulk-ordering, in turn limiting CO2 emissions.
This customer case study reminds us of the importance of dematerialising transactions to gain better control of tail spend. Through the Savin'side® method, many other strategies can be used to pursue this approach, for instance by streamlining the supplier portfolio or even by looking at product selection and consumption.