In an analysis of almost 300 key account customers, we identified a recurring trend: companies are mainly opting for high-end or premium products for their tail spend, which are by definition, non-strategic and non-recurring purchases. However, avoiding products that exceed quality requirements by choosing mid-range or private-label products offers savings opportunities of up to 20% per product.
High-end products have the edge
On average, we have seen that 35% of tail spend, made by companies from all sectors, consist of premium products, in comparison to 17% from private brands.
This gap is increasing, particularly for off-shore activities and certain industries (extractive and manufacturing), in addition to water and electricity production and distribution. Meanwhile, this gap is generally decreasing when it comes to housing, agriculture, forestry and fishing activities.
There are several reasons for this trend:
Often, procurement departments have little or no control over tail spend
Users are moving towards long-lasting products of the best possible quality
Users tend to choose premium-brand products that make them look good
This corresponds perfectly to premium-brand product positioning. However, this approach is not always justified for this type of purchase. Ultimately, this phenomenon has a direct impact on a company's purchasing budget.
The underestimated potential of private labels
Private labels offer an interesting alternative to premium brands, provided that they meet certain criteria:
A similar level of quality to premium brands
A longer warranty than premium brands
A much lower price
As a result, these private labels offer tail spend that are comparable to high-end products in terms of both quality and features, but which cost up to 20% less.
In order to make users aware of these products and change their purchasing habits, procurement departments and suppliers need to work together to put private labels in the spotlight and highlight their advantages, in situations where premium products are not strictly necessary.
Customer case study: Savings of £10,273
Let's take a look at a company from the building and construction industry, with a spend of £513,677 on products from its tail spend supplier. Following an analysis of its purchasing habits using Savin'side® , the company decided to adjust its product mix.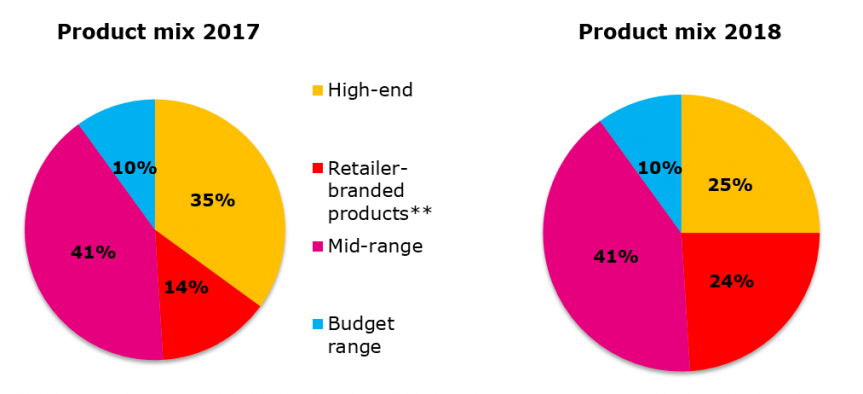 The company reduced its consumption of premium-brand products and started making more use of a private label. This new product mix allowed them to save £10,273, representing savings of 2% on supplier spend for tail spend.
| | | | |
| --- | --- | --- | --- |
| Entity | Consumption in 2017 | Consumption in 2018 | Savings in comparison to premium products |
| High-end | £182,115 | £130,748 | - £ |
| Manutan | £72,353 | £113,447 | £10,273 |
| Mid-range | £209,315 | £209,315 | - £ |
| Budget range | £49,894 | £49,894 | - £ |
| Total | £513,677 | £503,404 | £10,273 |
It is a good idea to remind users that premium brands are not always the best option for tail spend. Some private labels may offer an alternative to high-end products. This is especially relevant to Manutan, which has developed a brand that meets its customers' needs and positions its products as high-quality, everyday essentials available at a competitive price, with a warranty of up to 10 years. Today, it boasts 3500 everyday products (Office, Warehouse, Industrial Supplies, Packaging etc.) to assist companies with their rationalisation of tail spend.
*Building and public works
**Private label