back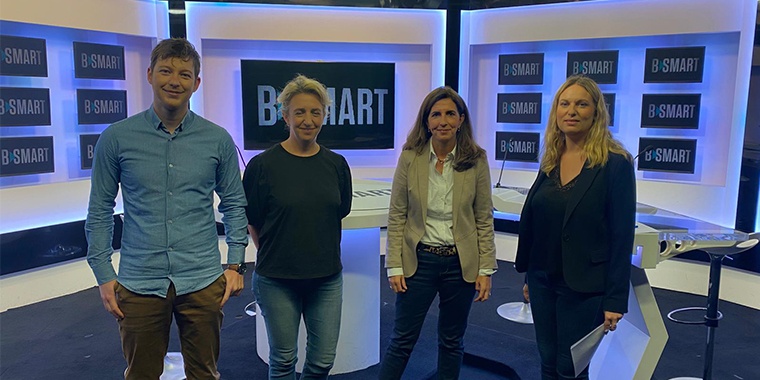 Tomorrow's work, at the heart of the 16th 'SMART@WORK' broadcast
6 September 2021
At a time when new forms of work are becoming widespread throughout the world, the latest 'SMART@WORK' broadcast takes a look at tomorrow's work. Aired on the BSMART television channel, this sixteenth edition brought together three experts to discuss this crucial theme for companies' future.
Alongside the journalist Aurélie Planeix, three guests met in the studio:
Marie Vaillant, founder of the architecture studio Yemanja
Kevin Bourgeois, co-founder of Supermood
Caroline Haquet, Manutan Group Human Resources Director
Coming out of the pandemic, the whole challenge is to reconcile employees' expectations with companies' needs. From the beginning of the programme, Marie Vaillant emphasised the importance of presence on site: "When you come to the office, you have to take a shot of the company culture and plenty of conversations with your colleagues."
Caroline Haquet agreed wholeheartedly: "the company is a social adventure." For the Manutan group Human Resources Director, companies' ability to adapt to new work organisational structures will depend on the social climate and their culture in particular. In this context, management and communication are key, especially in a bottom-up rationale (employees to the employer). Kevin Bourgeois underlined in this respect that today only 35% of employees feel able to talk to their managers about their constraints surrounding remote working.
To conclude, the watchword remains to be versatility. As Caroline Haquet recalled very pertinently: "Finally, the main lessons from this whole difficult period have been letting go, independence, people's ability to organise themselves, etc."