back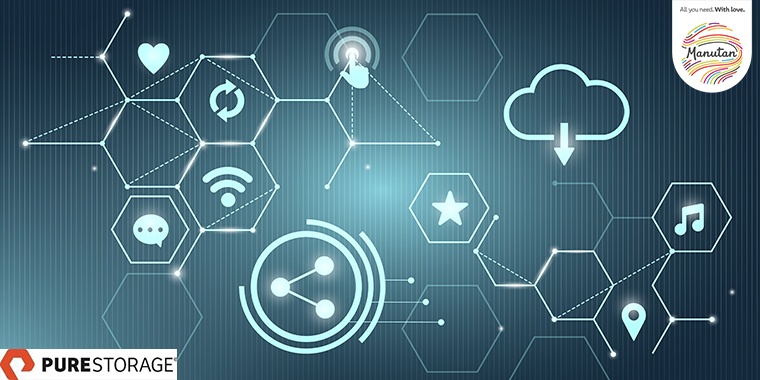 Manutan perfects its customer experience with Pure Storage
16 June 2021
Pure Storage (NYSE: PSTG), a pioneering IT supplier of storage as-a-service in a multicloud world, is helping Manutan, a European leader in B2B e-commerce, improve customer satisfaction with efficient technological solutions. Pure Storage's proactive approach in terms of customer needs supports the continuous innovation approach, which is anchored in Manutan's DNA.
Manutan is a B2B retailer specialising in the distribution of equipment and supplies to companies and local authorities, including office furniture, industrial supplies and tools, signage, and personal protective equipment. The Group was looking for an efficient infrastructure solution that could guarantee the availability of its IS and the business continuity of its 26 subsidiaries, while maintaining an optimal customer experience.
Faced with its former IT system's drop in performance, Manutan customer service feared a fall in quality that could slow down the teams' creative and innovative dynamic. The company wanted to modernise its IT infrastructure to handle the development of its data volume, due to its organic growth and the intensification of its now-centralised IS. Manutan also wanted to successfully create its own comprehensive supplier database on its website.
Pure Storage appealed to Manutan due to its breakthrough technical philosophy and its 'as-a-service' model. "The EvergreenTM offer is impressive. It enables us to break free from the cumbersome renewal of equipment every five years. We liked their brand-new approach on the market, which completely matches our desire to break with tradition to advance and improve our business processes and our services," declares Cédric Mariot, Infrastructure Administrator at Manutan.
Pure's performance enabled Manutan to successfully list all its suppliers, multiplying its data volume by ten with no impact on the IS or the customer experience. Furthermore, thanks to the Pure solution's bandwidth and response time, the Group was able to reduce its customers' access time to the e-commerce website to less than two seconds and increase its conversion rate: clear indications of Pure's positive impact.
Since the implementation of the solution, all Manutan's technical teams know that the storage is efficient and secure. Thanks to the administration of simplified storage, Cédric Mariot saved 25% of time every day, which he can now dedicate to strategic customer satisfaction projects.
Manutan became aware of the advantages of Pure Storage from the first minute of its installation because it was able to restart its IT system quickly after an interruption in activity that occurred just before the arrival of the Pure equipment. "The quality of our customer journey depends on the capacity of our IT infrastructure to accelerate and secure access to data, which Pure helps us do. Furthermore, we're taking advantage of the Pure1 tool, which is the nerve centre of the solution that I use every day to analyse the system in depth," comments Cédric Mariot. "Pure Storage performance has brought us indisputable support to perfect our customer service and accelerate the order receipt time frames. Thanks to its technological responsiveness, Pure enables us to offer our customers new, innovative solutions and to continue to pleasantly surprise them. We're also envisaging the FlashBlade solution to support our new business intelligence project in the coming months, to improve the analysis of customer data, and develop our service," adds Cédric Mariot.
"We're proud to support Manutan with our solutions and to help them respond to their customers' needs, and even exceed their expectations in terms of quality of service and customer experience. We help them keep on course in their innovation and strategic reflection, thanks to the ease of use and efficiency of our modern storage solution," declares Hugues Heuzé, Pure Storage Country Manager France.
The Manutan customer case study can be found on the Pure Storage website.
About Manutan
A family-owned group founded in 1966, Manutan is the European leader in B2B e-commerce, specialising in the distribution of equipment and supplies to businesses and local authorities.
Its range of quality products and services is one of the widest in Europe, enabling it to cover all its customers' needs and help them to optimise their purchases.
With 26 subsidiaries in 17 European countries, the Group has over 2,100 employees and had a turnover of €780 million in 2019/20. Manutan France and IronmongeryDirect were named Best Workplaces 2021 by Great Place to Work.
About Pure Storage
Pure Storage (NYSE: PSTG) saves technology experts time. Pure offers a modern data experience that enables companies to execute their operations transparently on multiple clouds as a real automated storage as-a-service model. As a publisher and data platform builder with one of the fastest growth rates in history, Pure helps its customers use their data while reducing complexity and spending related to infrastructure management. With a certified NPS score achieved by only 1% of B2B companies, Pure is attracting more and more customers with some of the highest levels of satisfaction in the world.

Recognition from analysts:
Pure Storage was named leader in Gartner's Magic Quadrant 2020 for primary storage.
Pure Storage, the 'P' logo, Evergreen, FlashArray, FlashBlade, and Pure1 are registered trademarks of Pure Storage, Inc. All the other product names or trademarks mentioned in this document are the property of their respective owners.