back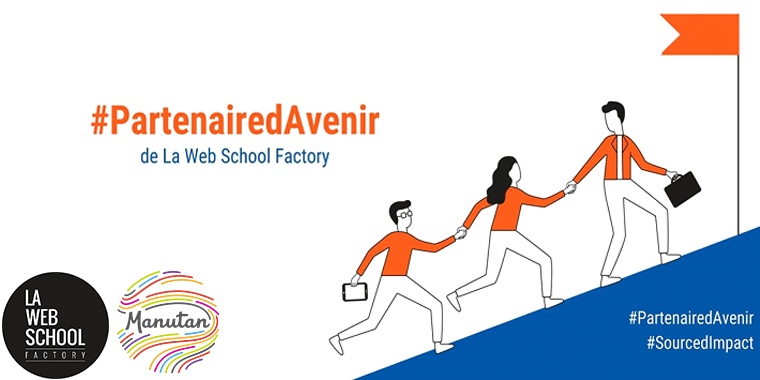 MANUTAN GETS INVOLVED TO SUPPORT STUDENTS FROM THE WEB SCHOOL FACTORY
26 May 2021
Manutan, European leader in BtoB e-commerce, is proud to join the Web School Future Partners, enabling students to contribute to companies' innovation and digital transformation. In this ecosystem, the Group is more dedicated than ever to striving every day and making future paths meet to fulfil tomorrow's needs.
At a time when there is a lot of uncertainty in our society, especially for the younger generations, the Web School Factory and its network of future partners are fully mobilised to take action and support the creation of careers of excellence in digital technology.

Making progress and developing while giving meaning to one's work is an ambition that Manutan has clearly confirmed. Joining forces with the Web School Factory is a strong commitment to have a lasting effect on society, while supporting the emergence of future talent by giving them the opportunity to reveal their full potential.

This programme is illustrated through different drivers:
A €1,000 contribution per year and per student towards educational fees and facilitating access to digital management studies.
This anchors younger generations' learning in reality as they address projects and issues in their everyday lives. 1,422 projects have been carried out, completed and presented over nearly 10 years.
Thanks to the bridges created by the school, it rallies the internal teams, strengthens students' employability and actively contributes to the emergence of a common and sustainable future.
For all these reasons, Manutan, WEB SCHOOL FACTORY's FUTURE PARTNER, is committed to a shared and sustainable future through entrepreneurship for a better world.

About Manutan
A family-owned group founded in 1966, Manutan is the European leader in BtoB e-commerce, specialising in the distribution of equipment and supplies to businesses and local authorities.
Its range of quality products and services is one of the widest in Europe, enabling it to cover all its customers' needs and help them to optimise their purchases.
With 26 subsidiaries in 17 European countries, the Group has over 2,100 employees and had a turnover of €780 million in 2019/20. Manutan France and IronmongeryDirect were named Best Workplaces 2021 by Great Place to Work.