back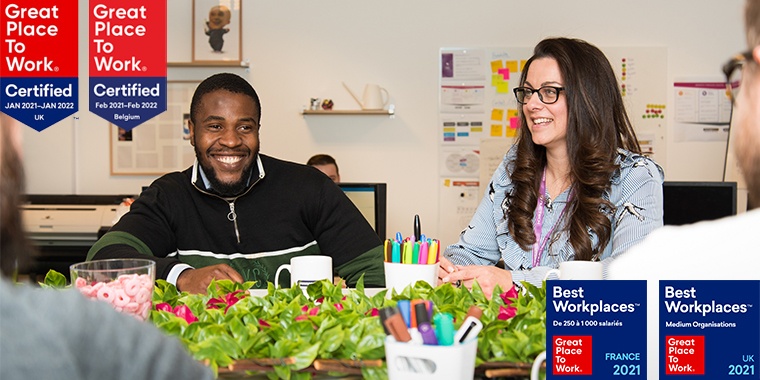 Four Manutan group subsidiaries are certified as a 'Great Place to Work' in 2021!
6 May 2021
The Manutan group's commitment and dynamism in contributing to its employees' everyday fulfilment have been rewarded once again. For the first time in the history of the European leader in BtoB e-commerce, four subsidiaries are certified as 'Best Workplaces 2021': Manutan France, Manutan Belgium, IronmongeryDirect and ElectricalDirect.
Manutan France climbs 10 places

For the fifth year in a row, Manutan France is one of the 'Best Workplaces France', in 17th place in the 250 to 1,000 employees category (as opposed to 27th place last year). The many practices rewarded by this label include the feedback culture, which encourages sharing constructive criticism between employees and M'link, the online sharing and referral platform. Among the employees, 84% are proud to say that they work for Manutan.
IronmongeryDirect comes in 58th place

For the second year in a row, IronmongeryDirect is among the 'Best Workplaces UK', in 58th place in the 51 to 250 employees category (as opposed to 59th place the previous year). Two great initiatives were highlighted: bi-monthly surveys on how employees were feeling during the pandemic and foodtrucks every month to thank the employees for their dedication. Despite this difficult year with its lockdowns, 86% of employees declared that IronmongeryDirect is still a pleasant place to work.
Manutan Belgium and ElectricalDirect are certified*

For the second time, Manutan Belgium was certified as one of the 'Great Workplaces Belgium'. In Anderlecht, 96% of employees considers that newcomers are made to feel welcome.
Finally, after joining the Manutan group in 2016, ElectricalDirect was certified as one of the 'Great Workplaces UK'. At the subsidiary specialising in the distribution of electrical supplies, 89% of employees want to work in the company for a long time.
Echoing its mission of "Entrepreneurship for a Better World", the Manutan group is continuing its efforts to support its employees' development and well-being. These four nominations are a wonderful recognition of the innovative initiatives put in place, especially in these troubled pandemic times.
*Manutan Belgium and ElectricalDirect are certified, which means that they have obtained the label, but they were not on the list of top workplaces in their category.