back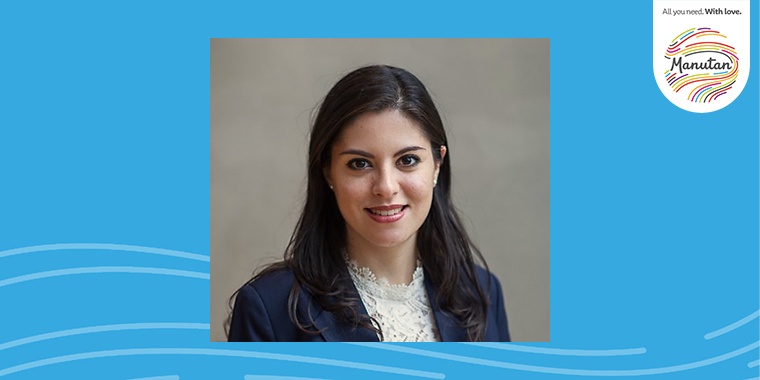 Chiara Di Paolo tells us about Manutan's Graduate Programme
2 September 2021
In 2019, the Manutan group launched its Graduate Programme, an innovative initiative enabling graduates to discover the different departments and subsidiaries, while working on varied tasks. Chiara Di Paolo, who took part in the pilot as a marketing project manager, shares her experience with us.
Could you tell us more about Manutan's Graduate Programme?
It's a personalised integration programme, a specific learning course with a mentor, and a career accelerator all at once. Within this framework, I had the opportunity to work on different topics, regularly changing task and team, and sometimes even subsidiary! Throughout this journey, Guillaume Duval, Group Master Data Management Director, supported me as a manager and mentor.
What tasks have been entrusted to you up to now?
I took my first steps within the Group Master Data Management department, on a project aiming to improve the global supplier referencing process (GSR). Then, the pandemic arrived. Alongside Offer Marketing, I attended a category management session on Covid-19 to define a dedicated action plan. Thirdly, I joined Manutan Collectivités, in particular to assess solutions to automate the retrieval of product data.
Today, I work alongside Marine Varret, Group Sustainable/CSR Offer and Supply Chain Manager on the implementation of processes and creation of tools to deploy the responsible offer. The next step: joining Manutan UK, the English general subsidiary in a role that is yet to be defined.
What benefits have you drawn from this experience?
Joining the Manutan group on the Graduate Programme was very rewarding and challenging. It enabled me to work on various strategic issues and get a better grasp of the company's challenges. I also had the opportunity to meet many employees from different backgrounds, to learn from experts and thereby improve my skills.
Through this pilot programme, the European leader in B2B e-commerce would like to boost the recruitment of young talent, while supporting them in their development. Would you like to join a company that promotes its employees' professional fulfilment? Check out our job opportunities (https://www.manutan.com/fr/accueil/nous-rejoindre/nos-offres)!