back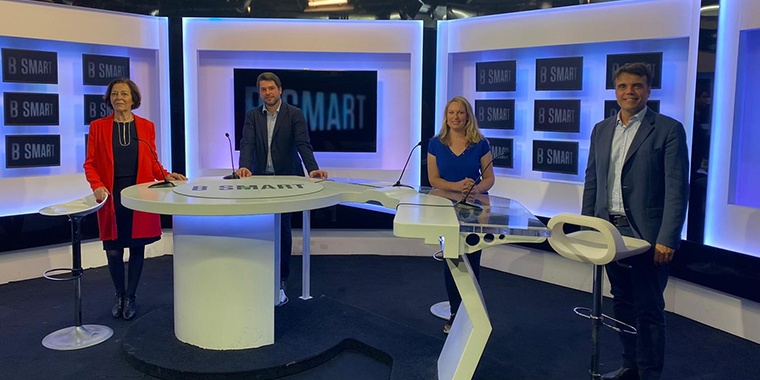 Logistics is at the heart of the debates on 'SMART@WORK'
10 May 2021
Broadcast on the TV channel BSMART, the 'SMART@WORK' programme airs fortnightly to explore the concept of 'Well-working'. In this twelfth instalment, the guests discuss the logistics sector, whose importance has been highlighted during the pandemic.
Journalist Aurélie Planeix welcomes the following guests to the studio:
Pierre-Olivier Brial, Managing Director of the Manutan Group
Anne-Marie Idrac, Chairwoman of the association France Logistique and former minister
Jean-Thomas Schmitt, Managing Director of the transport company Heppner
Accounting for 10% of GDP and 1.8 million jobs in France, the sector faces two main challenges. The first is, without any doubt, technological. "The idea is to automate what can be automated, to put more people where things cannot be automated, and where there are very significant challenges in terms of packaging,and quality of service" explains Pierre-Olivier Brial. For transport industry stakeholders, the aim is also, and above all, to ensure that the information expected is fed back to clients and end customers.
The second challenge involves making the sector greener. Jean-Thomas Schmitt talks about how his company has started a transition policy: "we have invested 15 million to change 50% of our fleet over the coming years, and supported many subcontractors. 11 of them have already converted to NGVs (natural gas vehicles)."
To conclude, the three guests also emphasise the essential 'Well-working' aspect in a sector that sometimes finds it difficult to recruit. Improving working conditions and valuing these occupations, that play a major role in social integration seems necessary to strengthen their appeal.