back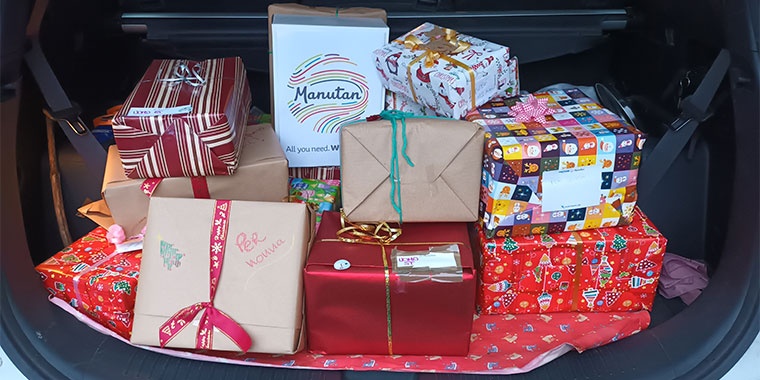 Manutan organises charitable collections for the end-of-year festivities
12 January 2023
Within the framework of its CSR strategy, the Manutan Group wants to strengthen its community commitment. For the end-of-year festivities, many initiatives usually flourish throughout the company. This year, all the subsidiaries rallied to support different charitable causes through donations to the most disadvantaged.
Given the current economic context, the French and English subsidiaries wanted to help people in poverty. Employees donated warm clothes, food, hygiene products as well as money to food banks, civil missions as well as local and national organisations (Secours Catholique and Mind UK for example).
Other subsidiaries wanted to brighten up the Christmas celebrations of underprivileged children. Hundreds of gifts (toys, books, educational materials, etc.) were given to charities leading targeted initiatives at the end of the year, such as MaMaMa, Mission Christmas, the Red Cross and the Swedish Church.
Caroline Henning, Well-working coordinator for the Nordic countries, shares the wonderful commitment shown in Sweden: "At the end of this year, we teamed up with the Gothenburg city community mission to help people in need. In addition to a purely financial donation, we bought one hundred Christmas presents for children. Before dropping them off with the organisation, we all wrapped them together in a festive mood, with the help of Xavier Guichard, Manutan Group CEO, Pierre-Olivier Brial, Manutan Group Deputy CEO and Jonathan Metcalfe, Manutan UK, North and East Managing Director, who were visiting the Swedish premises. It's heart-warming to help those who don't always have the means to celebrate the end-of-year festivities."
All these initiatives were made possible by everyone's involvement and all the teams' generosity. Thanks to its employees, the Manutan group is continuing to champion its mission: Enterprising for a Better World.