back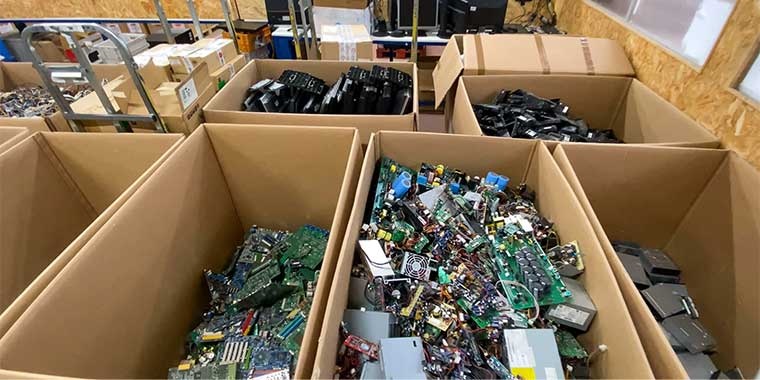 How do you give a second life to your computer equipment with Manutan?
27 July 2023
A year ago, the Manutan Group launched its used electronic product collection and recycling service for its customers. To offer this turnkey solution, the European leader in B2B e-commerce teamed up with the Arès group's Ateliers Sans Frontières ('Workshops Without Borders'), a social integration centre that helps vulnerable adults build their future. Our teams show you the whole process in a video.
Thanks to our total control of the supply chain, we can offer a tailor-made collection service that guarantees product traceability throughout the process.

Our aim is to offer the best possible second life to the equipment entrusted to us.

Emma Vaz, Operations Support & Customer Success Agent at Manutan, explains: "We maximise the re-use of our products by reselling them through our network of recycling partners, or by donating products that are functional but no longer have any market value to charities. And as a last resort, the products are recycled via an eco-organisation in France."

Our service includes the permanent deletion of data from electronic products. This includes the provision, on request, of erasure certificates in accordance with NIST SP 800-88 standard.

Pierre-Emmanuel Saint-Esprit, Circular Economy Director, concludes: "At the end of our service, we provide a full CSR report showing the CO2 emissions avoided, the natural resources saved from landfill and the hours of work experience financed thanks to this initiative. So why not use Manutan's collection and recycling service for your used electronic products?"

Corporate Social Responsibility (CSR) is at the heart of our ambitions. That's why we're committed to incorporating the circular economy into our products and services, so that our entire ecosystem can benefit.