back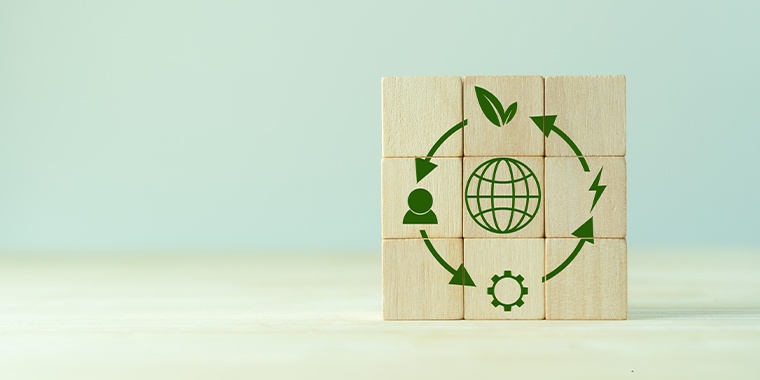 The Circular Economy, vector of sustainable growth?
28 July 2022
In a complex geopolitical and macroeconomic context in which the global markets have been affected by the uncertainties of the pandemic, the conflict between Russia and Ukraine and the inflationary spiral of the price of raw materials (due in particular to issues relating to the supply chain and climate deregulation), the problem of how to manage the exploitation of resources is becoming more and more crucial. The circular economy model, which 'consists of producing goods and resources in a sustainable way by limiting the consumption and waste of resources and the production of waste ', meets the challenge of responsible consumption and is clearly an essential solution for a sustainable future.
This collective awareness, which first of all resulted in the enactment of the anti-waste law for a circular economy (AGEC) in France in February 2020, concerns businesses especially, which have a major role to play in this transition.
Manutan, the European leader in B2B e-commerce specialising in the distribution of equipment and supplies, is committed to the sustainability of professional equipment, in order to reduce the sector's impact on the environment. The Group supports its customers – companies and local authorities – in purchasing eco-responsible products and offers to explore circular economy alternatives with them by recovering and recycling their electronic hardware, for example.
In terms of partners, Manutan encourages and supports its suppliers in increasing their level of transparency and traceability in the supply chain, while adopting more ethical and sustainable practices.
As a real driving force in its ecosystem, Manutan aims to become a major player in the circular economy, by building a positive model in which progress, growth and the ecological transition go hand in hand.
Pierre-Olivier Brial, Deputy CEO of the Manutan Group and Pierre-Emmanuel Saint-Esprit, Manutan Second Life Director, both experts in the circular economy, discuss the issue in eight questions.
A look back on the circular economy, a new virtuous economic model.
What are the current and future regulatory requirements for companies? How will these affect economic stakeholders?
How can we encourage these same stakeholders to develop new models based on the circular economy?
How can we decorrelate the use of resources from growth? How can we produce in another way?
Why must buyers take an interest in the circular economy?
What concrete solutions are there to offer a second life to equipment?
How can we sell off unsold items?
Does the digital revolution lead to the circular revolution? What is the role of data?

To request an interview with Pierre-Olivier Brial and/or Pierre-Emmanuel Saint Esprit, please contact: Henry du Basty on +32 (0)7 80 98 88 60 or by email at henry.dubasty@bcw-gloabal.com