back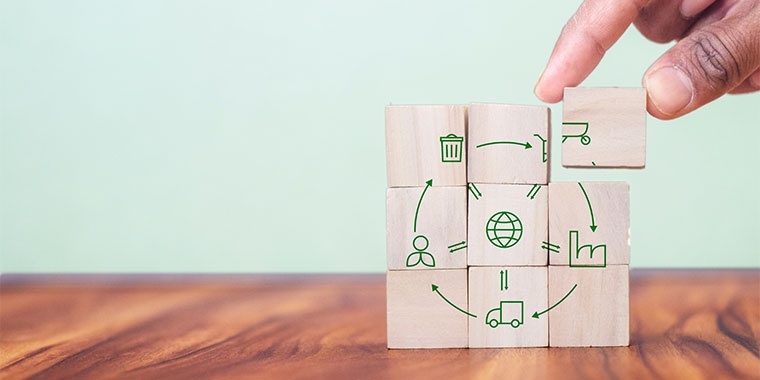 Manutan launches its environmental product impact score and continues its commitment towards an industry that's increasingly sustainable
7 September 2023
Based on a recognised methodological reference framework, this innovative rating system provides information on the ecological footprint of products over and above the carbon footprint, and will eventually be deployed on all 700,000 products in the Manutan range.
Manutan, the European leader in B2B e-commerce specialising in the distribution of equipment and supplies to businesses and local authorities, is launching the environmental product impact score, a comprehensive methodology to help customers choose sustainable solutions and engage suppliers in an eco-design approach. The aim? To respond to growing market demand for sustainable solutions while supporting all our stakeholders in their specific environmental challenges.
Xavier Guichard, Manutan Group Chief Executive Officer says: "Faced with growing environmental challenges, constantly evolving legislation and customer expectations, it is now essential for companies to gear their strategy towards a sustainable model. As a major European player in B2B e-commerce, we want to support our partners in this process."
A rigorous methodology based life cycle analysis of a product
Manutan has chosen to measure its impact in accordance with the principles of the Life Cycle Assessment (LCA), which analyses impacts at all stages of a product's life cycle, from the extraction of raw materials to end-of-life, including manufacturing, distribution, etc. This rigorous scientific approach is governed by ISO standards 14040 and 14044 and forms the basis of the two methodologies selected by Manutan to measure the environmental impact of its products:
Product Environmental Footprint (PEF) adopted by the European Union for the evaluation of PPE (Personal Protective Equipment)

ADEME, for furniture assessment
 These benchmarks make it possible to calculate impacts based on 12 to 16 environmental indicators such as the impact on climate change, resource depletion, fine particle emissions or the impact on human health.
On the basis of this methodology, Manutan awards a score ranging from A to E to its products. The classification is made within the same category of Manutan products meeting the same need.
Marine Varret, CSR Offer and Supply Chain Director explains: "Manutan is committed to developing and promoting a responsible offering. By providing information on the impact of these products using a simple display, the environmental product impact score enables us to better support our customers in their responsible purchasing strategy, while at the same time rewarding our suppliers who are committed to these issues."
After a successful initial pilot phase, Manutan is rolling out the score to 25,000 products in the furniture category.
A committed distributor and a driving force in its ecosystem
Manutan is committed to a responsible approach that is constantly being developed to meet the new demands of its corporate and local authority customers.
Alongside this launch, Manutan already offers a range of more than 80,000 eco-responsible products, and is rolling out services based on the circular economy, such as the collection and recycling of electronic products and, soon, furniture, in collaboration with associations promoting professional integration.