back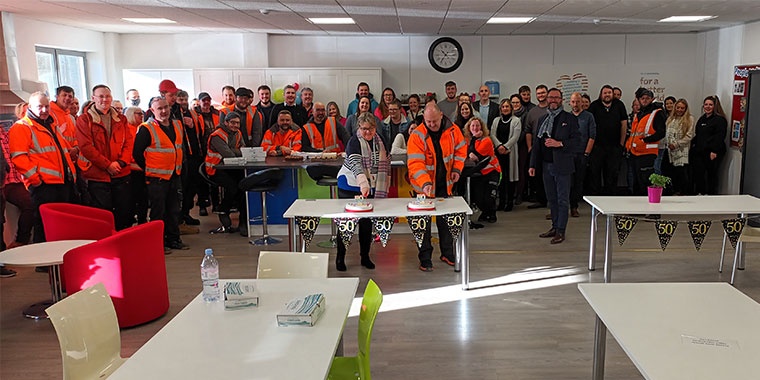 Manutan UK celebrates its fiftieth anniversary
7 March 2023
On 29th January, Manutan UK celebrated fifty years of trading. To mark the occasion, the UK subsidiary of the European leader in B2B e-commerce organised a day of festivities for all its employees. Faithful to its company culture, the watchwords were conviviality and sharing!
For the occasion, Manutan UK planned a 100% British menu with a food truck specialising in fish and chips and a selection of cakes. On this symbolic day, the company's longest standing employees came to cut the cakes: Karen Clark, customer relations advisor, and Paul Dent, warehouse operator, with respectively 38 and 32 years' within the biusiness.
Jonathan Metcalfe, Regional Managing Director of Manutan UK, North and East, shared confident words: "For all these years, our main asset hasn't changed: it's our employees, their dedication and their loyalty. Fifty years ago, we faced the same challenges as we do today: inflation, new European relations, an energy crisis... And we overcame them! I'm deeply convinced that our shared culture, team spirit and desire to progress are our guarantee of long-term success!"
Manutan UK is proud to celebrate half a century of entrepreneurial and human adventure! Today, the teams are prepared to take up the challenges of the next fifty years with passion and commitment.