back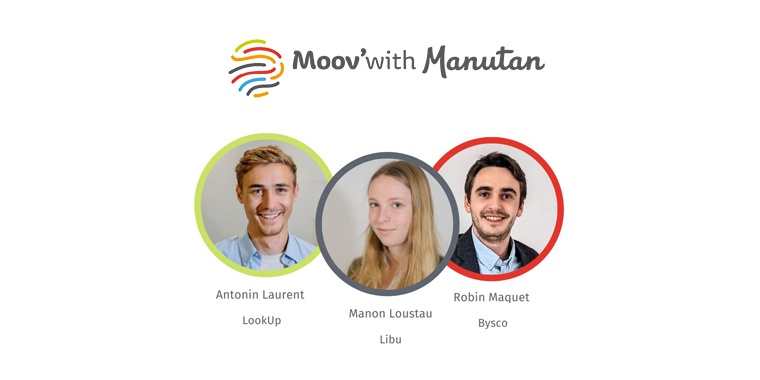 Manutan reveals the names of the three winning start-ups of the 2022 edition of its acceleration programme "Moov'with manutan"
27 September 2022
Manutan, one of the European leaders in B2B e-commerce specialising in the distribution of equipment and supplies to companies and local authorities, announces the winners of its Moov'with Manutan acceleration programme for the second year in a row.
Deployed with its historical partner Moovjee, this programme aims to identify and support the growth of innovative start-ups in the B2B world.
Moov'with Manutan or Manutan at the service of BtoB start-ups
The Moov'with Manutan acceleration programme was launched, for the second year in a row, as part of proactive approach with the aim of integrating the three winning start-ups in the French B2B economic fabric. As a real development driver for these young start-ups, the lucky winners will receive tailored support with a dedicated team for a full year, commencing from 15 November 2022. Also, there will be regular meetings with employees occupying key roles within the company, who will provide the start-ups with countless tips on how to develop their activities (HR, finance, export, etc.). The winners will also have the opportunity to set up in the actual Manutan European headquarters in Gonesse, and have access to the site's many facilities (coworking spaces, company canteen, media library, sports centre and caretaker service, etc.). They will be able to form key partnerships and develop their products or services offering within the Manutan group via support from business experts, and may potentially integrate them in Manutan's offering.
The programme also includes a new feature for this edition; the 2022 year group will be supported by a mentor. Thibaut Massiet du Biest, Director of Internal Services and Procurement at Metro France, will provide the winners with his advice and expertise in B2B challenges, throughout the year.
The new B2B start-ups Made in France
Ten start-ups were selected from among twenty applications to pitch their projects and answer the panel members' questions on Manutan's premises on 22 September. Three of them distinguished themselves and came out as the winners of this competition:
BYSCO – Robin Maquet – 28 years
Bysco sells textile solutions made from mussel byssus that improve thermal insulation, acoustic comfort, fire protection, system reduction and surface resilience.
Libu – Manon Loustau – 27 years
Libu provides the only lighting that is proven to improve employees' health in companies. It is optimised lighting which follows the changes in biological rhythm over the day.
LookUp – Antonin Laurent – 25 years
LookUp designs, manufactures and markets ergonomic office accessories to improve the work environment. The manufacturing is local and uses materials from the circular economy.

Xavier Laurent, Director of Mergers and Acquisitions at Manutan and programme sponsor, tells us about the panel: "In this edition, the participants' sensitivity to social and environmental issues was clear. They all have considerable awareness of the current challenges and the need to build a better world. The panel would like to thank all the candidates for having taken part and congratulates the winners. Moov'with Manutan will enable us to provide the start-ups selected with not only material help, but above all tailored support, an essential factor in their development."
Members of the panel:
Bénédicte Sanson – Co-founder and CEO of Moovjee
Bertrand Pouget – Moovjee Programme Director
Xavier Guichard – CEO of the Manutan Group
Xavier Laurent – Manutan Group Director of Mergers and Acquisitions
Aurélie Bousseau – Manutan France services project manager
Fabrice Gicquere – Manutan France Customer Relationship Director
Raphaël Brochard – Co-founder and CEO of PICNIC (Winner of the first edition of Moov'with Manutan)
Thibaut Massiet du Biest – Metro France Director of Internal Services and Procurement
Ten start-ups presented before the panel: