back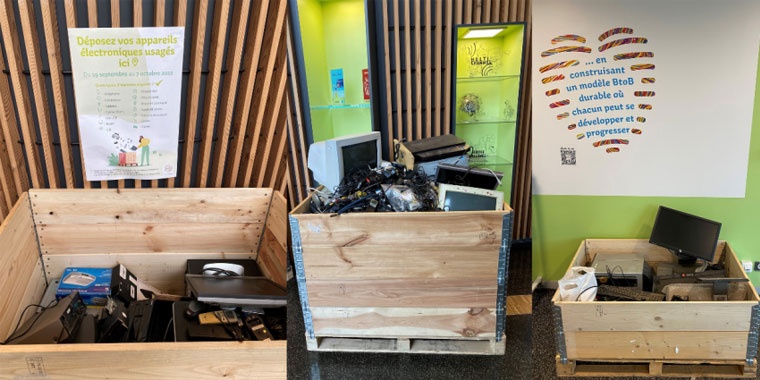 Rallying employees to collect equipment for a good cause
28 March 2023
A few months ago, the Manutan Group organised a large-scale collection of used electronic equipment with its employees at its European Centre. The operation carried out by its MCR (Manutan Collection and Recycling) service has given the best possible second life to hundreds of products (resale, donation or recycling). It was a fantastic effort with great CSR results.
In three weeks, employees dropped off hundreds of electronic products: laptops, keyboards, mice, printers, chargers, adapters, smartphones, screens, etc.
Nearly three quarters of the products were resold at reduced prices within the network of Ateliers Sans Frontières (Workshops Without Borders) partner associations. The rest of the products were taken by Ecologic France, an accredited eco-organisation for the certified recycling of electronic products, or put up for sale to professional buyers.
In total, this collective initiative made it possible to:
Save 645 kg of material (steel, plastic, aluminium and copper, etc.)
Avoid 47.8 tonnes of CO2 equivalent (that's almost 24 round plane trips from Paris to New York)
Fund 14.5 hours of reintegration work with Ateliers Sans Frontières
As the European leader in B2B e-commerce, the Manutan Group wants to put the circular economy at the heart of its business model. This is a wonderful example of the positive impact we can have if we all rally together.