back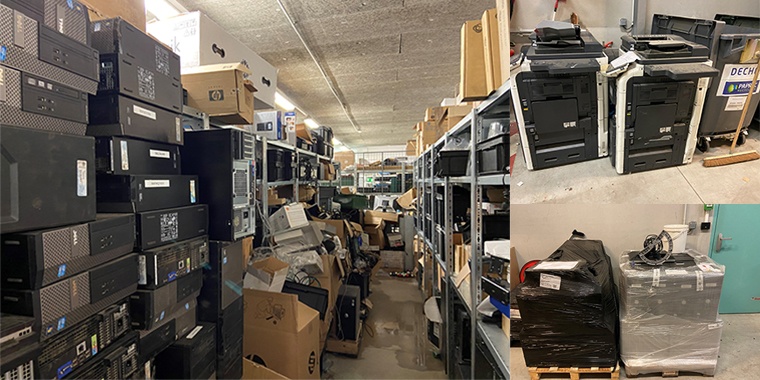 The Manutan group gives its computer hardware a second life
31 March 2022
As part of its Corporate Social Responsibility strategy, Manutan aims to reduce its environmental impact and in particular its greenhouse gas emissions. That's why the European leader of BtoB e-commerce is giving its old computer hardware a second life. To do this, the company has employed the services of Zack, the start-up specialising in the circular economy that recently joined the Manutan family. Over 247 electronic products, or 1.5 tonnes of hardware, have been recycled since the beginning of 2022.
Zack aims to fight waste by giving a second life to all used electronic products from companies and local authorities. To do this, the start-up offers a comprehensive turnkey service.
"The process is simple and efficient: after palletising the equipment, you just need to visit the Zack platform, and their teams will take care of everything. In a few weeks, they pick up the goods, wipe the data, carry out an inventory and make a precise diagnosis of the products, indicating what will be resold, donated or recycled. Then, they send the CSR report to make it easier for you to communicate about the process", explains Jérôme Marchandiau, Director of IT Operations Infrastructure, who coordinated the project.
Of the old computer hardware from the Manutan group, 90% of the products were eventually recycled in an environmentally-friendly manner by a social enterprise that runs a back-to-work programme, in France. It was possible to sell the remainder of the products in their current state to then be reconditioned and reused. As a bonus, the proceeds from sales will be donated to a charitable organisation.
In terms of CSR performance, this represents:
1,662 kg of material recovered (steel, aluminium, copper, etc.). This is equivalent to 77 tonnes of CO2 avoided, or 77 return plane trips between Paris and New York!
Over 15 working hours funded for the back-to-work programme.
Through this initiative, the Manutan group is enterprising for a better World by building a sustainable B2B model in which each person can develop and progress.