back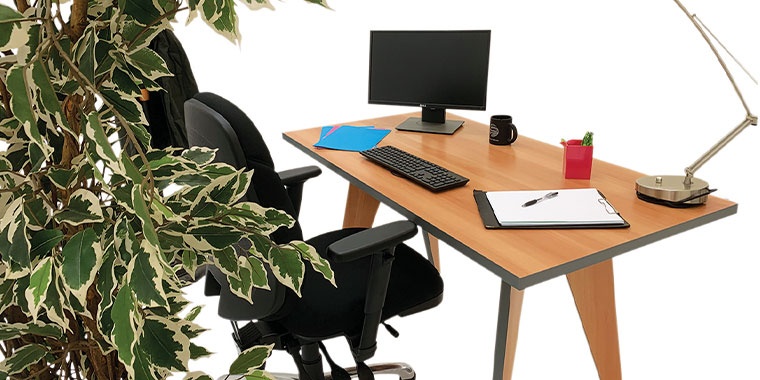 The Manutan Group launches a desk made from 98% reclaimed materials
13 July 2022
Committed to more responsible commerce, the Manutan Group would like to promote the circular economy within its ecosystem. As part of this dynamic, the European leader in B2B e-commerce has created a desk made from 98% reclaimed materials, called 'Séléné'. The design of this very first product in partnership with experts in the circular economy is a new step in the development of its responsible range.

Vincent Sans, Deputy Managing Director of Manutan Collectivités, comments, "To be an instigator of change, we wanted to provide concrete and responsible solutions to our customers for the purchase of their professional furniture. This project is full of meaning: it will help private and public organisations in their responsible procurement policy, in the context of the AGEC (anti-waste for a circular economy) law, while promoting professional integration and offering a second life to used furniture."
To carry out this ambitious project, the Manutan Group has teamed up with Valdelia, an eco-organisation in charge of managing the recycling of professional furniture at the end of its life cycle, the Ares Group, a group of organisations for integration through employment, and Christophe Dabi, product designer.
Sold by Manutan France and Manutan Collectivités, here are a few key figures about the Séléné desk:
97.7% upcycled materials (only the screws are new)
10 hours of work per person on a professional integration scheme for each desk
80% of CO2 emissions and 26.89 kg of waste avoided in comparison to designing a new desk
Attractive, stable, and robust, the Séléné desk proves that it's possible to make beautiful and functional items with old materials. Good value for money and delivered within 24/48 hours in ecological packaging, this product invites you to try out previously owned furniture.
This unique product paves the way for tomorrow's furniture, promoting more responsible consumption. The Manutan Group is continuing to support Entrepreneurship for a Better World by building a sustainable B2B model in which each person can develop and progress.