back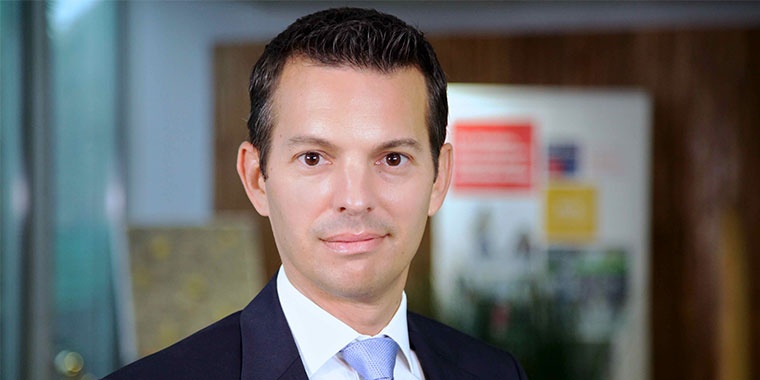 Antoine Compin is appointed Managing Director of Manutan France
26 October 2021
Gonesse, 21 October 2021 – Manutan, the European leader in B2B e-commerce specialising in the distribution of equipment and supplies to businesses and local authorities has appointed Antoine Compin as Managing Director of its subsidiary Manutan France.
Antoine Compin, who graduated with a two-year Master's degree in International Business from Grenoble IAE in 2004 and with an MBA from HEC Paris in 2017, began his professional career in the Michelin group in 2005 where he held, until 2010, several positions with sales responsibilities for B2C and the management of Key Accounts.
In 2010, he joined Philips where he stayed for seven years. He was given managerial responsibilities and then made head of sales for the B2C and B2B entities.
In June 2018, Antoine Compin joined the Manutan group as Sales Director France. At the time he was responsible for defining the sales strategy and for its implementation including P&L, margin growth and cost management. He managed nearly 75 people and worked in close collaboration with the following teams:
marketing to deploy campaigns
tender team to maximise the success rate and secure contracts over the long term
value-added services to support Key Accounts in optimising their purchases through the "Savin'side" method in particular.
Rich sales and managerial expertise serving the Manutan group!
With over 15 years' experience in business, in particular in the B2B segment, and a good knowledge of the Group, Antoine Compin was appointed Managing Director of Manutan France on 1 October.
"I am delighted that Manutan's management is continuing to put its trust in me by giving me this position within the French subsidiary. This appointment offers me the opportunity to put all the experience I have acquired to good use for this leader in B2B e-commerce and to continue my projects which were already well underway during my previous position as Sales Director", comments Antoine Compin.
To do this, Antoine Compin has a team of over 225 employees around him in France. His role is essentially to:
draw up the strategic plan and ensure its execution with the aim of profitable growth
ensure effective coordination between each of the subsidiary's departments as well as with the Group's services, with the support of the Board of Directors France
Antoine Compin succeeds Julie Dang Tran, the former Managing Director of Manutan France, and will report to Ramon Kok, General Manager of Manutan's Enterprise Division.
"In a context of continually changing markets, my priorities will be to introduce new working methods in order to adapt to the new measures in effect, to place the customer at the heart of the company's decision-making and to develop new solutions to ensure the differentiation of our value proposition." stresses Antoine Compin. "Finally, I would like to place special emphasis on the human dimension and one of my tasks will be to lead the teams and to ensure their development in order to support transformation and maintain the development of all Manutan France's employees", he concludes.