back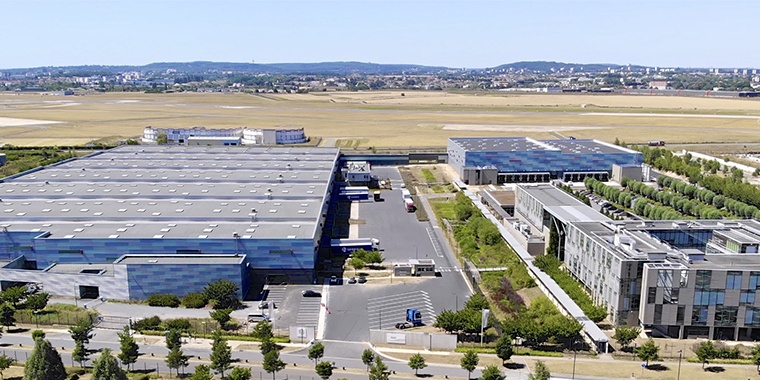 The Manutan group has announced the creation of an ultra-modern 9,000 m2 extension to its European logistics centre in Gonesse (95)
22 June 2021
Manutan, European leader in B2B e-commerce specialising in the distribution of equipment and supplies to companies and local authorities, is inaugurating the new extension of its current warehouse at the cutting edge of innovation in Gonesse, where the headquarters of the family-owned medium-sized business has been located for more than fifty years.
In order to offer an increasingly seamless customer experience, and to increase its storage capacity, in a context of drastic growth in its offering, the Manutan group launched a large-scale extension project in autumn 2018, for its 41,000 m2 warehouse in Gonesse, which responds to an aim to modernise, streamline and optimise. Within the framework of this strategy, the company has invested 18 million euros to build a 9,000 m2 extension directly connected to the main warehouse, increasing the total surface area to 50,000 m2. The building was delivered in July 2020, with immediate operation for part of the process. In February 2021, an essential point and last stage of this project: the mechanised part was launched.
An ultra-robotised warehouse thanks to an Autostore®...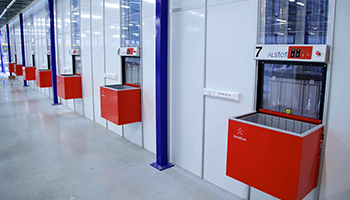 Experiencing strong growth, the Group wanted to make this exceptional investment to optimise the automated processing of its small products, in particular. To do so, Manutan chose Alstef, integrator and specialist in automated systems for the deployment of the Autostore® solution, which, at the same time became the largest Autostore® facility in France.
This new system meets two challenges:
to increase the storage capacity for this type of product
to optimise order processing
The Autostore® enables us to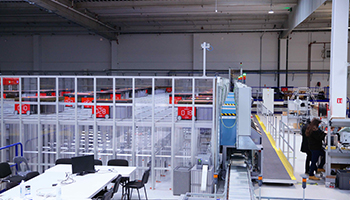 store nearly 40,000 "small products" arranged in a large cube of 60,000 containers routed by 61 robots to prepare them rapidly. Four picking stations were specially set up to guarantee optimal ergonomics and work safety. Each workstation can prepare three orders simultaneously.
To manage this warehouse optimally, Manutan also deployed a dedicated Warehouse Managing System: "Manhattan 2018".

... to increase the total storage capacity and for better efficiency in serving customers and employees...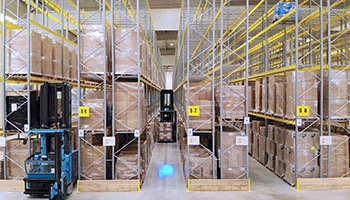 In addition to the Autostore®, a second space with a storage area for 7,000 high-density pallets was deployed. In addition to the increase in total storage capacity, this new extension aims to strongly accelerate the processing of orders and reduce delivery times. First benefit observed: an improvement in the Net Promoter Score (NPS), a tool used by Manutan to monitor customer satisfaction.
From order receipt to preparation, Manutan chose automated solutions that improve its employees' working conditions. At the same time, the logistics teams were involved in this large-scale project: they themselves chose the ergonomics of their new workstations which were custom-built. Many site visits were also organised throughout construction so that employees could understand and get to grips with the new equipment quickly. Second benefit observed: the best working conditions and teams' awareness increases their performance and comfort on a daily basis.
This is a wonderful illustration of the use of cutting edge technology to improve the customer experience and employees' quality of work, thereby gaining operational efficiency.
"This extension enables us to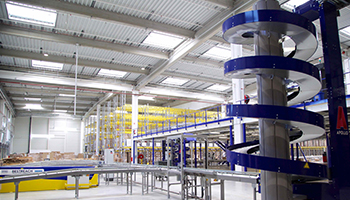 store twice as many products and process four times as many orders every day to serve our customers better. The deployment of a large amount of robotisation really supports employees, making their work much more comfortable and enabling them to focus on high added-value tasks!" explains Grégoire Koudrine, Manutan group Supply Chain Director.
Opening this new building is also a driver for transformation and the adaptation of occupations to this new work tool. The employees are helped to upgrade their skills in order to master these new technologies and carry out other tasks thanks to the time saving enabled by the Autostore®.
... providing an adapted response to the environmental challenges and the development of the whole Manutan ecosystem!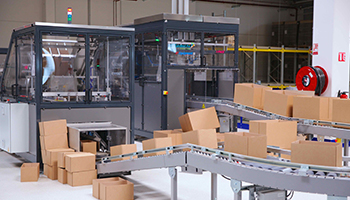 At the heart of Manutan's DNA for many years, CSR is one of the priorities that are encouraging the Group to develop some of its processes. It was therefore essential that these challenges be taken into account, in the deployment of this new warehouse. With the aim to deliver to its customers in the most responsible way. Manutan made significant optimisations in terms of a green supply chain such as deploying B+ machines that adapt the size of cardboard packaging to products and removing plastic padding. The benefit is twofold:
less plastic consumed
optimised package sizes saving space when loading and reducing the number of lorries needed for delivery.
"This new building, an extension of the historic site, fits in perfectly with the MANUTAN group's aim to put 'Well-working' at the heart of its organisation. It's a project that will enable us to develop our entire ecosystem: our employees with better working conditions and upskilling, our suppliers from whom we will be able to store more products in our warehouse, and finally our customers, whose purchasing experience will be significantly improved with an extended offering, and delivery under optimal conditions," concludes Grégoire Koudrine.