back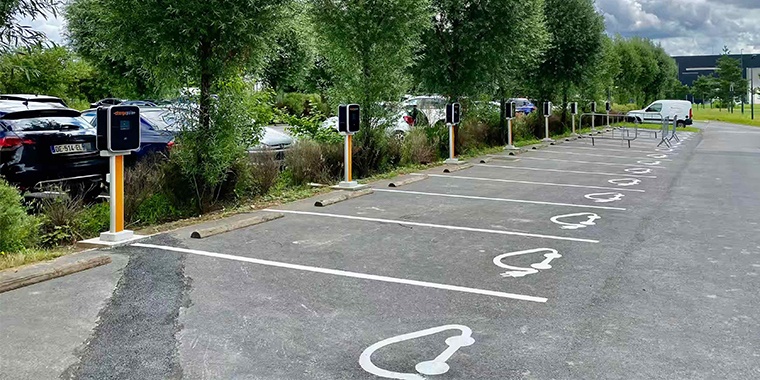 The Manutan group installs electric charging points for its employees' vehicles
21 September 2021
Gonesse, 21 September 2021 – Manutan, the European leader in B2B e-commerce specialising in the distribution of equipment and supplies to businesses and local authorities has installed electric charging points for its employees' vehicles at its European headquarters. Led by its mission of 'Entrepreneurship for a Better World' and its CSR policy, the Group decided to collaborate with WAAT, a young company founded 3 years ago specialising in the supply, installation and maintenance of these charging points.
Migration of the combustion engine fleet to an electric fleet...
As part of the development of its CSR policy and in response to environmental challenges, the Manutan group has taken on the aim of migrating its entire combustion engine car fleet to a hybrid and electric fleet. To do so, Manutan launched a consultation at the beginning of the year and chose WAAT to install charging points in its car park, both for its business car fleet and for employees' private cars.
This initiative, envisaged over the long term, also incorporates the capacity for extension over several years. The electric cabinet, cables and civil engineering sizing were put in place to potentially accommodate an extension.

... encouraged by WAAT's electric charging points on the Manutan campus...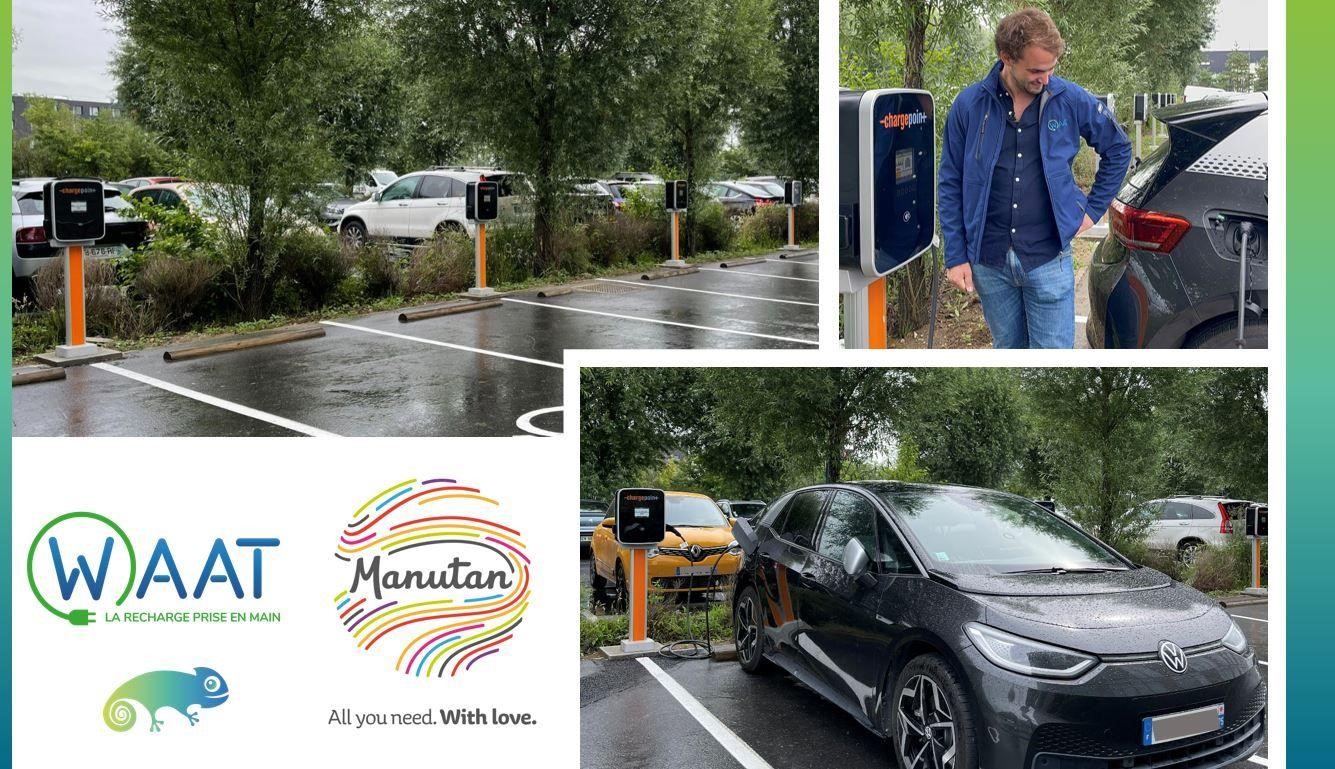 After several weeks' work, the project was completed at the end of June and the points are now accessible free of charge to all employees with a non-combustion engine vehicle.
Today, there are 8 dual points installed enabling 16 vehicles to charge. For the second phase, which will be deployed in the second quarter of 2022, 8 others will be installed in the same car park, opening up 32 spaces. A dual point will also be installed in the visitors' car park.

"My decision to purchase an electric vehicle, in addition to stopping my CO2 emissions, was strongly influenced by the installation of charging points at Manutan. Their power enables me to completely charge my car battery in only 5 hours, where with others it may take up to 24 hours! In this way, one charge a week is enough and above all, it enables me to free up my space quickly for others. Also, using it is very easy with the app: I put my phone in front of the contactless point and plug in my car," comments Benoît Cortez, Manutan Group Sourcing Director

Eventually, according to needs and the increased share of electric vehicles in the car park, up to 60 charging points will be available. WAAT has already anticipated this extension because the electrical installation has been designed for an electricity requirement of up to 30 dual points.

... at the cutting edge of technology!

These points have a supervision tool that enables:
Identification of the charge (consumption and power monitoring);
Power management;
The implementation of 'queues' with alerts informing the employee when their vehicle has finished charging so that they may free up their space for a colleague who also receives a notification indicating that the space is free;
Remote maintenance: monitoring the point directly and performing a diagnosis if the employee is blocked.
The charging points are connected and an app is available to all users, in particular to have access to the 'queue' feature.

"We are delighted with our collaboration with WAAT, a young company with strong expertise, which as provided us with unfailing support on this new campus project. The 8 charging points are appreciated by all. In addition to continuing the deployment for the employees' car park, we have also planned to equip the visitors' car park. This is to enable our clients and partners to take advantage of this installation and to support them towards more responsible consumption as well!" comments Mathieu Dubois, Manutan group technical services director.
A project encouraged and subsidised by the government!

This electric charging point installation project initiated by Manutan and supervised by WAAT is eligible for the Advenir subsidy put in place by the government. In its programme, the government encourages, informs and subsidises all the companies who use this equipment in their own car park, for their fleet and their employees' vehicles.

"Working for a project like this one is a magnificent opportunity for WAAT. There are still too few companies which, like Manutan, are committed, look to the future and anticipate expectations as quickly. Often risk-averse, they prefer to wait and are reluctant to act, unlike Manutan which is a visionary, avant-garde Group advocating high responsiveness given the global environmental context!" concludes Lucas de la Guigneraye, business manager at WAAT and manager of the project with Manutan.