back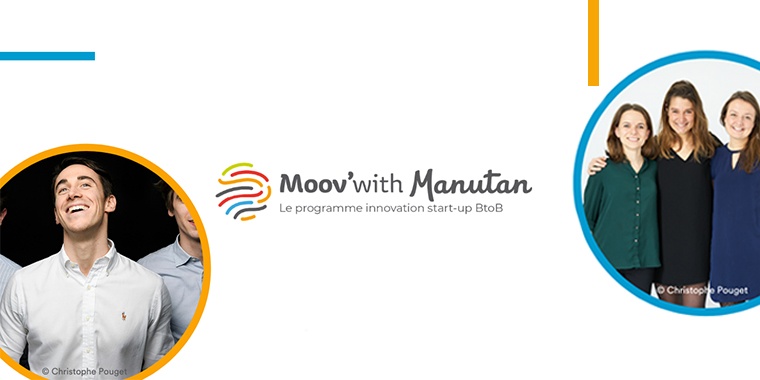 Manutan launches 'Moov'with Manutan', a programme in partnership with Moovjee to identify innovative B2B start-ups!
7 May 2021
Between 2020 and 2021, 912,945 companies were created in France, proof that entrepreneurship has the wind in its sails, even during a pandemic (source INSEE). This same entrepreneurial spark that has lit up Manutan for several years is behind 'Moov'with Manutan', the programme co-branded with Moovjee that aims to identify and support innovative start-ups in the B2B world.
Founded in 2009, Moovjee's aim is to support the development of young entrepreneurs, keep them informed and above all to support them and help them shine. This programme helps entrepreneurs who are starting out by giving them the keys to success via a network of business experts, media visibility, as well as real integration in the economic fabric.
Let the adventure begin!
The 'Moov'with Manutan' adventure is open to entrepreneurs aged 18 to 30 years who want to develop. Owning at least 20% of the company's shares is a requirement, with a creation made in France. In the same vein as Manutan, the start-ups must be in the B2B sector with SMEs or medium-sized businesses as target clients. Young entrepreneurs can think big because their ambitions can be French and/or European!
Sharing and exchange are important values at Manutan which sees a win-win collaboration in this programme. This is why start-ups' offerings must be consistent with Manutan clients' needs. This programme's ambition is to find class C products (industrial supplies and tools, packaging, health & safety, etc.) or services dedicated to innovative companies.
Manutan has a strong vision of its CSR development and wants partners at its side with similar committed values. This is why the connection between the product or service on offer and CSR will be a real advantage to be selected in this programme.
After candidates have been accepted for the Moovjee mentoring programme, the preselected candidates will present their project to a panel which will enable the 'Moov'with Manutan' teams to select one to three start-ups which will be supported by Manutan in developing their offering.

Start-uppers, to join this adventure click here

What next?
The winners selected will receive comprehensive support for one year via various initiatives. Manutan will provide office space at its European headquarters in Gonesse as well as access to the site's facilities: coworking spaces, company canteen, sports centre, etc.
Tailored support is at the heart of this programme, which is why start-ups will also all have a sponsor, a business mentor as well as regular meetings to monitor the development of their offering.
A spirit of community and solidarity are values which inspire Manutan every day, which is why start-ups that do not win but have been before the panel will not be left by the wayside. These start-ups can take advantage of themed round table meetings, like the three winners, as well as a visit to the Manutan European headquarters.
In brief
The 'Moov'with Manutan' adventure is above all a story of passion for innovation and tomorrow's entrepreneurship. It's a shared desire to highlight innovative projects to create strong and influential collaborations.

"This programme co-branded with Moovjee confirms Manutan's commitment to start-ups and its desire to innovate on a daily basis. We are proud to put innovative B2B start-ups with ambitious projects that are in line with Manutan's values in the spotlight. This win-win collaboration enables us to learn, challenge ourselves and maintain our forward-looking momentum,' Xavier Laurent, Director of Mergers and Acquisitions for the Manutan Group.